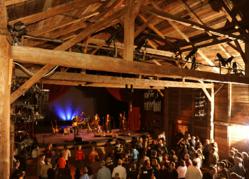 Vienna, VA (PRWEB) October 26, 2012
Karla Bonoff
Steve Forbert
Wednesday, November 14 at 8 pm
Thursday, November 15 at 8 pm
$27
Karla Bonoff
Acclaimed songwriter and performer Karla Bonoff returns to The Barns at Wolf Trap for the first time in three years. A veteran of the folk-rock music scene, Bonoff found her greatest success with the 1982 single "Personally," and recorded songs for major motion-pictures including "Somebody's Eyes," which was featured on the original 1984 Footloose soundtrack. In addition to her success as a recording artist, Bonoff has written numerous songs for notable musicians such as Bonnie Raitt, Wynonna Judd, and her long-time friend and collaborator Linda Ronstadt. Bonoff is also known for her role in the low-key folk-rock supergroup Bryndle. Originally founded in 1960, Bryndle has since reunited in the 1990s, released two albums, and intermittently toured with great success in the United States and Japan. Bonoff's latest release was 2007's Live, a double-disc showcase of her live shows, which have been shaped and refined over years of touring and performing.
Video: Karla Bonoff - Home
Steve Forbert
The well-traveled and ever-active American folk musician Steve Forbert brings his lyrically potent and introspective songs back to The Barns at Wolf Trap for the first time since 2007. Forbert is best known for "Romeo's Tune," the hit single off of his second album, Jackrabbit Slim. Twelve albums and nearly 35 years later, he is touring in support of his newest LP, Over With You, released in September 2012. The album follows Forbert's traditional minimalistic style, musically sparse with greater emphasis on lyrics. The album features support from an impressive group of musicians, including Ben Solle, Jason Yates, Michael Jerome, and the internationally popular Ben Harper, who lent his skills as a guitarist on three separate tracks.
Video: Steve Forbert – The Sweet Love That You Give
Howard Levy
with Chris Siebold
Friday, November 16 at 8 pm
$25
Howard Levy
Multiple GRAMMY Award-winner Howard Levy is a recognized master of the diatonic harmonica, and a superb pianist and composer, in addition to success as a recording artist, bandleader, teacher, and producer. Wolf Trap welcomes him back to The Barns for the first time in nearly 25 years. An eclectic and prominent musician, Levy has worked with myriad bands across various genres and has appeared on hundreds of CDs, including those of Kenny Loggins, Dolly Parton, Paquito D'Rivera, Styx, Donald Fagen, and Paul Simon. His most notable collaboration, however, was as a founding member in Béla Fleck and The Flecktones, a widely followed jazz-fusion bluegrass band that rose to popularity in the early '90s. Levy earned a GRAMMY Award for his recent work with the group in 2012, winning Best Instrumental Composition for the song "Life at Eleven." He has also received great acclaim for his work as a solo artist and leader of the Latin-jazz group Chévere de Chicago, having released albums for both projects on his own label, Balkan Samba Records.
Video: Howard Levy – Out Of The Box
Chris Siebold
Chicago-based guitarist, songwriter, singer, and freelance journeyman Chris Siebold has been touring in the states and abroad with Howard Levy since 2001. Siebold draws from a wide range of musical influences and plays many styles, from bluegrass to big band jazz and everything in between. Siebold is a prominent member of the music scene in his native city of Chicago, most notably as the guitarist for the jazz-funk fusion ensemble Kick The Cat, and as a permanent member of Howard Levy's Acoustic Group.
Video: Howard Levy Live With Chris Siebold
###
Tickets can be purchased by calling 1(877)WOLFTRAP; or online at http://www.wolftrap.org
For more information, call The Barns at Wolf Trap at (703) 938-2404 or our general information line at (703) 255-1900.