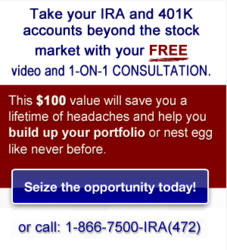 I firmly believe that self-directed IRAs and self-directed 401(k)s are the solution. People have got to take control!
Atlanta, GA (PRWEB) October 29, 2012
Jim Hitt, CEO of American IRA-a national self-directed IRA provider, speaks about the historically low savings account interest rates and offers expert opinion! CNN Money reports "Higher yields on savings? It will be awhile" Jim Hitt shares some little-known solutions available to everyone with a retirement account.
This report from CNN is one of many recent reports which clearly point to the fact that people need to 'take action' in order to build savings for their retirement years. In fact, CBS Philly reports that a recent survey shows 40 Percent of Americans have $500 or less in savings. Jim Hitt interjects, "I speak to many folks who are scared about not having enough to survive on during their retirement years. I tell them all that having a good plan and being prepared is the key to eliminating that fear. I firmly believe that self-directed IRAs and self-directed 401(k)s are the solution. People have got to take control! Sitting on those savings accounts and hoping they grow is like incubating an alligator egg and hoping a chicken hatches."
Here's what people need to know…self-directed IRAs and self-directed 401(k)s allow people to take control of what their IRA and 401(k) invest in. The options are wide open. People can invest in Real Estate, Private Lending, Precious Metals, Limited Liability Companies, Self Storage Units, and much more.
A great example is a client who loaned $300,000 from their Real Estate IRA to an individual who needed funds to purchase a large self storage facility valued at $400,000. They agreed on a 6% interest only loan with a balloon payment due in 5 years. After 5 years, the client had collected $90,000 in interest and the investor paid back the principal amount of $300,000.
A $90,000 profit in 5 years is a great return for the client and the investor was able to purchase a self storage facility that they otherwise would not have had the funds to purchase. This is just one example of how individuals can make those retirement accounts grow.
About:
American IRA, LLC was established in 2004 by James C. Hitt in Asheville, NC.
The mission of American IRA is to provide the highest level of customer service in the self-directed retirement industry. Mr. Hitt and his team have grown the company to over $250 million in assets under administration by educating the public that their self-directed IRA account can invest in a variety of assets such as real estate, private lending, limited liability companies, precious metals and much more!
As a self-directed IRA administrator they are a neutral third party. They do not make any recommendations to any person or entity associated with investments of any type (including financial representatives, investment promoters or companies, or employees, agents or representatives associated with these firms ). They are not responsible for and are not bound by any statements, representations, warranties or agreements made by any such person or entity and do not provide any recommendation on the quality profitability or reputability of any investment, individual or company. The term "they" refers to American IRA, located in Asheville, NC.