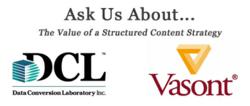 Emigsville, PA (PRWEB) October 29, 2012
This is not the normal webinar series in which speakers present a topic for an hour and attendees listen. This series gives technical communicators the opportunity to ask the questions they have always wanted to ask. For people who have ever wondered where the ROI for a structured content strategy comes from, or how to get the most out of content assets, the "Ask Us About…" webinar series presented by Data Conversion Laboratory (DCL) and Vasont Systems is a question-and-answer format in which the speakers will address the questions that attendees have submitted regarding the webinar topic. The first webinar in the series will be held on Wednesday, December 5 at 1:00 pm EST featuring the topic, "Ask Us About…The Value of a Structured Content Strategy." Interested participants can register for this event at https://www3.gotomeeting.com/register/210855542.
In this one-hour webinar, DCL and Vasont Systems will forgo a formal presentation and instead answer questions submitted by registrants about the value of moving to a structured content environment and the return on investment of a content management system implementation. Attendees may submit their pressing questions, complete with details of the situation, when registering for this informal virtual discussion. The panelists will dig into 30+ years of experience to provide the answers to these important questions.
The "Ask Us About…" series will continue quarterly through 2013 with a variety of topics about structured authoring, data conversion, content management strategies, and digital publishing. A different set of expert panelists will be featured for each webinar.
About Vasont Systems
Headquartered in Pennsylvania, Vasont Systems is a provider of XML content management software and data services, backed by more than 60 years of experience in the information management and publishing industry. Its Vasont® content management system enables organizations to manage and store their multilingual content once for multi-channel delivery. Fortune 1000 companies and organizations from industries including manufacturing, technology, publishing, and healthcare use Vasont to manage and produce multilingual technical documentation, training programs, and reference materials. Vasont® is a registered trademark of Vasont Systems.
About Data Conversion Laboratory
Founded in 1981, DCL converts and organizes content to create electronic documents, populate databases and publish on the web, sustaining long-term strategic relationships with clients spanning all industries, while preparing them for tomorrow's technology. DCL's US-based project management team applies their specialized talents to solving clients' complex problems with a particular emphasis on highly complex projects as technology advances.