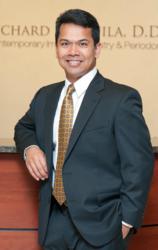 Jacksonville, FL (PRWEB) October 29, 2012
Dr. Richard E. Aguila of Contemporary Implant Dentistry & Periodontics now uses modern dentistry to add implants to traditional dentures. He is aware of the difficulties that traditional dentures often produce. Sometimes the adhesive doesn't hold well and the denture slips. The gum that the denture rests on can begin to deteriorate, which causes the bite to be off and makes it hard to eat. The denture may click or pop, which can be annoying or embarrassing. A dental implant can support the denture and hold it firmly in the jaw so that these problems are no longer an issue.
It is estimated that 70 percent of all adults in America between the ages of 35 and 45 have lost at least one permanent tooth and that 25 percent of adults over the age of 75 have no permanent teeth left. Traditionally, when many teeth are missing, a patient has opted for either partial or full dentures. Considering all of the problems associated with the traditional method of keeping a denture in the mouth, adding implants to the dentures is a feasible solution.
With a dental implant supported denture, the implants are surgically installed in the jawbone and the titanium they are made of fuses with the bone, providing strength and stimulating bone growth. The top of the implant may have a ball and socket configuration or it may be attached to a bar, depending on the type of denture the patient prefers.
People who are tired of the slipping, noise, poor fit, and lack of chewing strength their current dentures provide them may be interested in the implants and the support they provide. More information on implants and how a denture works with them may be found at http://www.laseranddentalimplants.com.
Richard E. Aguila, D.D.S is a periodontist offering patients personalized dental care for Jacksonville, FL since 2010. Dr. Aguila received his Bachelors of Arts degree in Chemistry and Doctor of Dental Surgery from West Virginia University. He completed a hospital-based General Practice Residency at the Naval Medical Center- San Diego. He practiced general dentistry in the Navy for six years before pursuing his specialty training in periodontics and dental implant surgery at the Medical University of South Carolina. During this time he obtained his Certificate in Periodontics and Masters in Health Sciences with honors. Dr. Aguila has been practicing periodontics and dental implant surgery exclusively since 2001. He is part of one percent of dental professionals providing the most recent FDA cleared laser procedure for gum disease and periodontal treatment. To learn more about Richard E. Aguila, D.D.S and his dental services visit his website at http://www.laseranddentalimplants.com and call (904) 638-7980.