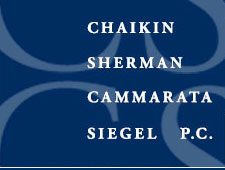 Washington, DC (PRWEB) October 26, 2012
According to The U.S. Centers for Disease Control and Prevention (CDC), there have been over 300 reported cases of fungal meningitis and two dozen deaths reported among patients who received contaminated steroid injections. Washington D.C. lawyers at Chaikin, Sherman, Cammarata & Siegel, P.C are now offering free case evaluations on behalf of victims who may have received a contaminated steroid injection, and who are at risk of developing meningitis.
Patients who received a spinal steroid injection between May 21, 2012 and September 28, 2012 should talk to a physician immediately. The CDC has stated injections from the New England Compounding Center (NECC) of Framingham, Mass., are the source of the outbreak. NECC produced and shipped the steroid to 75 facilities in 23 different states.
"We have been helping people harmed by defective products, including medications and medical devices for many years," said Washington D.C. lawyer Allan Siegel. "When a manufacturer of a drug puts out a dangerous product that causes death or results in the contraction of a serious disease, we step in on behalf of our clients to make sure the manufacturer is held responsible, and our clients receive fair compensation."
Meningitis refers to inflammation of the protective membranes covering the brain and spinal cord. Fungal meningitis can develop after a fungus spreads through the bloodstream from somewhere else in the body, as a result of the fungus being introduced directly into the central nervous system, which can happen from an injection. There have been 45 reported cases in Virginia and 18 reported cases in Maryland. For over 40 years, Chaikin, Sherman, Cammarata & Siegel, P.C has helped victims in Maryland, Virginia and Washington D.C.
About Chaikin, Sherman, Cammarata & Siegel, P.C.
The Law Offices of Chaikin, Sherman, Cammarata, & Siegel, P.C. represents clients in the Washington, D.C., Maryland, and Virginia areas who have suffered serious personal injury due to another party's negligence. The law firm also accepts qui tam cases on behalf of whistleblowers who report fraud against the government, ensuring the maximum whistleblower protections and seeking the best possible whistleblower rewards under the False Claims Act.
For over 40 years, the personal injury lawyers at Chaikin, Sherman, Cammarata, & Siegel, P.C. have helped more than 10,000 victims of negligence seek and maximize the compensation they deserve for their personal injuries and losses. The firm's three partners were all selected as 2011 Washington, D.C. Super Lawyers ®. Learn more about the law firm by visiting: http://www.chaikinandsherman.com.