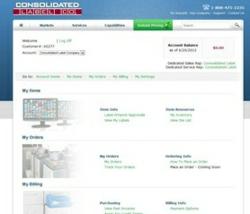 Longwood, FL (PRWEB) October 30, 2012
Consolidated Label Company, a leading manufacturer of custom labels in the United States, has launched a comprehensive label account management system allowing customers to manage their label needs through the company's web portal.
The custom label account management system offer customers the ability to track order status, view label proofs, upload artwork, view inventory items and handle account information all within the system.
"We noticed that majority of our customers are handling their day-to-day business transactions online. As such, we felt the need to create a system that can handle the needs of these customers when it comes to labels." says Joel Carmany, president of Consolidated Label. Carmany adds, "This system offers our customers to ability to manage their custom labels and account information any time of the day and from anywhere around the world."
The account management system is offered free of charge to existing and new customers. It is designed so that the label process can all be handled online. The system also offers customized reports and management options depending on the needs of the customer. In order to access the system, a customer will need to request a protected log-in and password.
To request a log-in or see a live demonstration of the system, contact Customer Service at (800) 475-2235.
About Consolidated Label:
Founded in 1981, Consolidated Label is one of the country's leading suppliers of custom labels and flexible packaging. The company produces custom labels and packaging for thousands of customers across a wide variety of industries including food, beverage, household products, medical, pharmaceutical, and promotional products.
For more information, visit http://www.consolidatedlabel.com