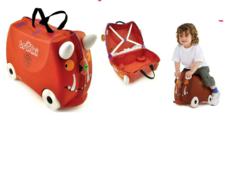 The Gruffalo's distinctive features are designed on this case
Kent (PRWEB UK) 29 October 2012
Inspired by the well known and loved children's story, the creative Trunki manufacturers have teamed up with the creators of the exciting storyline and created this limited edition item. It is one gorgeous addition that the kids are sure to love. The Gruffalo's distinctive features are designed on this case and it comes with a pack of its own stickers for children to add their own creative ideas to it.
The ride-on trunks were brought about by a very imaginative team aimed at making kids' luggage fun, exciting and even educative. Children just love the ride-on cases for the fact that it packs their very own luggage and it is coupled with the fun side of play while riding. Parents do have the opportunity to pull along the case while it is being ridden also.
"The Gruffalo has always been a well loved and catchy story. It is so very exciting for our marketing team to be able to see this story come alive, as it were, on a piece of luggage for children." comments Trina Chee-a-kwai , Marketing Executive at Luggage Superstore.
The cases come with locking catches, teddy bear seatbelts, bits pouch, two carry handles for extra ease, secret compartments for extra fun, a multifunctional carry-tow strap and the best part is the passport for downloadable activities.
Luggage Superstore's established site is in West Kingsdown, Kent. Their aim is providing competitive prices of the highest quality luggage and top calibre Customer Service for online luggage shopping.
Trina Chee-a-kwai
Luggage Superstore
01474854666
Email Information