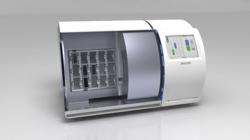 Hørsholm, Denmark (PRWEB) October 29, 2012
Visiopharm a leading provider of Quantitative Digital Pathology solutions announced today the expansion of their comprehensive digital pathology integration list to include support for the Philips Digital Pathology solution for non-clinical research.
Visiopharm has the most complete integration list on the market; with support for all leading digital pathology scanners and software integration with several digital pathology data management solutions. Integration is available with Aperio, Hamamatsu, Leica, MetaSystems, Olympus, PathXL, 3DHistech, and now Philips. Johan Doré, Chief Technology Officer at Visiopharm, stated "Our commitment to integration provides digital pathology customers with the flexibility to choose the scanner and data management software that best fit their needs without sacrificing workflow for image analysis."
Visiopharm customers can quickly and easily expand their quantitative power with the APPCenter; featuring over 40 ready-to-use Analysis Protocol Packages (APPs) that can be tested free of charge. APPs are purchased for a one time, low fixed cost and will work with both Visiopharm's Deployed Analysis and Cloud Analysis solutions. CloudAnalysis includes pay-as-you-go access to all Visiopharm analysis software, including TissueMorphDP and VisiomorphDP™ in the Cloud.
Visiopharm will be exhibiting at Pathology Visions 2012 on October 28-31, 2012 in Baltimore, MD. Please visit their booth #26 & #27 to learn more about their quantitative digital pathology solutions.
About Visiopharm
Over the past 10 years, Visiopharm image analysis and stereology software has become the preferred Quantitative Digital Pathology solution for leading biopharmaceutical companies, clinical researchers, and academic researchers all over the world. Visiopharm has more than 300 deployed systems worldwide and a large network of distribution and support partners, and is featured in over 400 scientific publications.