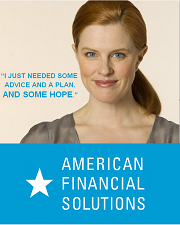 On a debt management plan, negative credit is not a barrier to receiving assistance.
Seattle, WA (PRWEB) October 28, 2012
With the current unemployment rate in the U.S. continuing to be near 8%, many people struggling to make ends meet are turning to their credit cards. Estella Rogers has been out of work for 16 months, "The savings I had helped me survive the first six months, but after a while, if I wanted to eat or buy gas it went on the credit card," she says.
Unfortunately, the use of credit cards to bridge the gap in pay can result in even higher bills and more stress related to making payments. "Most people we see in this situation are struggling to keep their heads above water. One late fee or over-the-limit fee and catching up becomes an overwhelming process for the person," says Becky House, Education Director for American Financial Solutions (AFS), a non-profit credit counseling agency.
Estella is not alone. According to a 2012 study by Demos, 86 percent of households who incurred expenses due to unemployment in the past year took on credit card debt as a result. In addition, 40 percent used credit cards to pay for basic living expenses such as rent or mortgage bills, groceries, utilities and insurance.
One of the options available for people who have experienced a reduction in income and are trying to deal with credit card bills is debt consolidation. "People often contact AFS because they want to merge all of their bills into one loan and have a lower monthly payment," said House. What AFS provides is a consolidation of payments rather than debt.
A debt management plan (DMP), through a credit counseling agency works similarly to a debt consolidation loan. However, unlike having to qualify for a loan based on your credit, a DMP may help someone as long as they have the ability to make the payments. Having less than perfect credit is not a barrier to receiving assistance.
Credit counselors assist people in developing a plan to pay off their unsecured accounts making one monthly payment. The type of bills that may be included in a consolidation include credit cards, store cards and in some cases collection accounts. The benefit of working with a credit counseling agency is that creditors may provide plan participants with special concessions such as:

Reducing interest rates
Stopping late fees
Stopping over the limit fees
Stopping collection calls
One of the biggest benefits may be the re-aging of credit card accounts that are placed on a DMP. Rather than continuing to show an account as 30, 60 or 90 days past due on the credit report, creditors may show that account as current after three payments are made on the plan.
DMP's are not the answer to all credit card debt problems. Credit counselors can also work with people to develop their own payment arrangements with creditors, create a realistic budget, or even explore bankruptcy as an option.
As for Estella, she did not learn about credit counseling until it was too late to save her retirement money. With her credit cards maxed out and no longer any way to make ends meet, she withdrew the money to pay down her cards. "I wish I knew there was another way out. Now I'm afraid for the future."
"The reality is that sometimes what people need to hear is that they are doing the best they can in their circumstances," said House. "That and a little bit of hope and a plan can go a long way."
American Financial Solutions (AFS) is a non-profit 501(c)3 financial education and credit counseling agency that helps people find solutions for managing their money and improving their financial lives. Since 1999, AFS has helped individuals across the United States through one-on-one counseling, classes and the use of debt management plans. AFS is a member of the National Foundation for Credit Counseling (NFCC) as well as the Association for Independent Consumer Credit Counseling Agencies (AICCCA). AFS is also accredited by the Council on Accreditation (COA) and has an A+ rating by the Better Business Bureau. Find us and add us on Facebook, Twitter and Google+.
http://www.demos.org/press-release/new-national-survey-credit-card-act-success-plastic-safety-net-persists