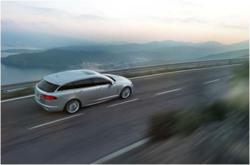 (PRWEB UK) 26 October 2012
Jaguar XF Sportbrake Premium Luxury 2.2D 200PS Auto
THE Sportbrake: it's the estate version of the Jaguar XF and it's been a long time coming – in fact, it's been four years since the XF saloon was originally introduced. But we have this first company car review.
The Jaguar XF Sportbrake aims to transfer all the luxury, style and sportiness of the saloon into this more practical bodyshape – ideal for business owners who loved the saloon but found its four doors impractical.
Jaguar has chosen to only offer the Sportbrake with diesel engines, meaning SME company car buyers can pick between a 2.2-litre four-cylinder unit with either 161bhp or 197bhp and a 3.0-litre V6 diesel with 237bhp or 271bhp.
What's hot?
It's sometimes difficult to make an estate model look stylish but the Sportbrake manages it. That's partly down to the classy chrome window line but the subtle roof spoiler and blacked out D-pillars both play their part, too.
The interior is just as luxurious and classy as the saloon, and that includes the boot. Most trim levels get LED lighting, deep carpets and a stainless steel loading guard, as well as a power-operated tailgate.
It's a big boot too, though admittedly not the biggest in this class. It has 550 litres of space, compared to the 695-litre Mercedes E-Class Estate. Fold the rear seats down and there's 1,675 litres of luggage space.
Standard fit self-levelling air suspension on all but the entry-level model ensures a very comfortable ride and good balance too.
We drove the 2.2-litre diesel with 197bhp and it feels as fast as one would ever need thanks to the 0-62mph time of 8.8 seconds. The eight-speed automatic is fantastic at making gearshifts almost unnoticeable.
And it's a company car buyer-friendly engine too. CO2 emissions of 135g/km mean the driver will be paying £1,660 of tax if they're a standard-rate tax payer. A similarly powerful 5 Series Touring does sit in a lower company car tax band, though.
What's not?
While the 2.2-litre four-cylinder diesel does feel quick, it's not the most refined engine in this class. Pottering around town drivers won't notice it but accelerate hard and it sounds harsh and rattly. Not very Jaguar.
Similarly, the stop-start system shakes the car a little bit on start-up. The same system on a Mercedes works much more smoothly.
There are some very good rivals in this class. For a company car comparison, the BMW 5 Series Touring is more efficient and better to drive; the Mercedes E-Class Estate is arguably more luxurious and certainly more practical; and the Audi A6 Avant is suitably stylish and understated.
It might not be a problem for the majority of buyers - especially those in the SME company car market - but it would be nice if Jaguar at least offered a petrol variant to widen choice
Business Car Manager Verdict
Jaguar has definitely achieved what it set out to the do with the XF Sportbrake. From behind the wheel drivers would struggle to tell they were driving the estate rather than the saloon, but then they'd get all the added practicality of that luxurious boot.
For those who want the most sensible company car they can do better than our 197bhp. Jaguar offers a Business SE model powered by a 161bhp engine that comes as standard with goodies like sat-nav and Bluetooth. It boasts the same CO2 emissions but the P11D value is around £6,000 lower, saving standard-rate taxpayers £240 in the first year over the model tested here.
As great as the Jaguar XF Sportbrake is, you really can't discount the Audi A6 Avant, BMW 5 Series Touring or Mercedes E-Class Estate. All are fantastic and it might be worth setting up a Business Car Manager company car comparison to see which would work best for you.
Jaguar XF Sportbrake Premium Luxury 2.2D 200PS Auto - the low down
P11D Value £39,515
Company car tax band 2012/2013 to 2014/15 21%, 22% 23%
Benefit in Kind tax £8,298, £8,693, £9,088
Engine 2.2-litre 4cyl diesel
CO2 emissions 135g/km
Power/torque 197bhp/ 450Nm
0-62mph 8.8 seconds
Economy 55.4mpg
For more information, visit Business Car Manager at http://www.businesscarmanager.co.uk/