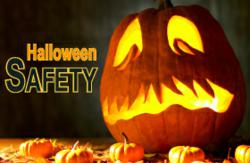 Trick-or-treating families should plan a safe route...
Neptune, NJ (PRWEB) October 29, 2012
The month of October marks the time of year when we transition from the fun summer sun to the cold of winter. The leaves are changing, the days are shorter and the temperature drops.
What else occurs in October? Halloween! During this month, horror movies are in near-constant rotation on television, stores are offering every kind of candy that is available and seasonal Halloween Stores pop up everywhere with a large variety of costumes, decorations for the front porch, and all kinds of scary trinkets.
While enjoying the excitement of Halloween, there are safety considerations that everyone should be made aware of. Chief Don Colarusso, President of All Hands Fire Equipment, one of the nation's top suppliers of fire tools and firefighter equipment offers some important safety tips to help families through a safe and fun Halloween:

Drivers should be alert to trick-or-treaters on Halloween. Children who are in costume are likely to be in dark clothing may have limited visibility if wearing a mask. They also may not be as attentive as usual while in the street due to the excitement and distraction of trick-or-treating.
Pedestrians should remain alert to traffic. Parents and older children should practice situational awareness by being vigilant of any potential hazards.
Trick-or-treating families should plan a safe route, visit homes in their own neighborhoods or other familiar surroundings. Strangers and unfamiliar homes should be avoided, and trick-or-treaters should never enter the home of someone they do not know.
Older children who are trick-or-treating without parents should stay in a group with their friends.
It is advisable to wear or carry something that is highly visible. Items such as bright clothing, reflective markings, flashlights or cylume sticks will increase the safety of anyone out after dark on Halloween.
As always, local laws, ordinances and related regulations, such as a designated curfew should be adhered to.
Going trick-or-treating on October 31 poses its share of dangers, but there are other safety considerations that should be recognized as well. Great care should be used with knives and sharp instruments for carving pumpkins. Open flames for candles and camp fires should also be used with great caution. More fire safety information, firefighter safety gear, and first responder supplies can be found at http://www.allhandsfire.com/fire-boots