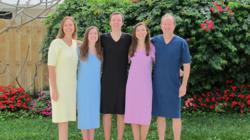 After ordering, they called me to make sure I had the right size
Hobe Sound, FL (PRWEB) October 28, 2012
Wittmann Textiles Company adds to their line of Ladies Flannel Nightgowns. In a time where 100% cotton is hard to come by in the industry, their company has added to their Ladies USA line of Flannel nightgowns. Their Tee-PJ ™ Nightshirts have been made here in the USA since 1955, but has picked up in momentum the past few years due to the recent movement to buy American. Wittmanns nightshirts are made exclusively for them in Pennsylvania and in the Carolinas and offer premium quality and comfort. Wittmann Textiles is unique in that instead of weekly sales on only certain products, they offer everyday quantity pricing and free shipping over $190.00. So, they welcome you to visit their website at http://www.wittmanntextiles.com.
Testimonial: After ordering, they called me to make sure I had the right size: I didn't, so they helped fix it: excellent customer service before shipping. R. Flank, Florida
A national mail order and internet company in Hobe Sound, Florida, Wittmann Textiles Company family owned and operated continuously for 57 years. Offering made in the USA and other high quality sleepwear selling directly to the consumer at the best possible price. Wittmann Textiles Company, headquartered in Hobe Sound, FL, offers the highest quality sleepwear and advertises in Smithsonian, Elks, Sierra, National Review, and others. Wittmann Textiles Company offers great personal customer service and all products are backed by a 100% Satisfaction, Money-Back Guarantee. For more information, please visit http: http://www.wittmanntextiles.com.