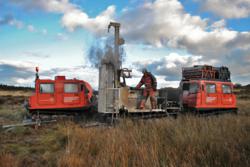 (PRWEB UK) 26 October 2012
International renewable energy consultancy Natural Power has doubled the size of its Geotechnical team and associated all terrain drilling hardware to help deliver a rapidly expanding pipeline of UK site investigation work for onshore wind farms.
Natural Power now have Geotechnical teams based both in the company's HQ near Dumfries, Scotland and in Falkirk, Scotland, as well a further four offices around the UK. Capitalising on the launch of their All-Terrain drilling services last year Natural Power have invested in a second Haaglund ATV and associated Drilling Rig specifically tailored to forestry sites whilst also bringing in a number of additional industry specialists including Hugh Powell.
Hugh Powell has recently joined Natural Power as a Senior Geotechnical Design Engineer. Hugh has a wealth of experience, with nine years industry experience of wind farm development and design, borrow pit/quarry design and operation, site investigation, foundation and roads design, EIA, project management and third party liaison.
Commenting on the team's recent expansion, Toby Gilbert, Head of Geotechnical Services at Natural Power commented: "It is great that the Geotechnical team at Natural Power continues to expand with a range of qualified and experienced engineers. We are fully equipped to provide full project lifecycle, geotechnical consultancy services. Operating our own fleet of drilling equipment and supply vehicles allows us to readily address the behaviour of earth materials, even in the most complex terrains."
Latest projects include Lochluichart Wind Farm, a 17 wind turbine project in a remote upland site with terrain and geological challenges. The project involved initial field mapping and GIS data management site, layout redesign, ground investigation specification, ground investigation deployment / completion, blasting trials, grid connection route design and investigation.
A multidisciplinary geotechnical ground investigation was also conducted on a mountainous site more than 400m above sea level at the All Dearg Wind Farm in Argyll, Scotland earlier this year. The scope of work included engineering field mapping site investigation, trial pitting and drill investigation.
Natural Power will be demonstrating their ATV and Drill Rig at the entrance to the SECC on 30th and 31st October 2012 as part of the renewableUK annual conference in Glasgow. The team will also be available on Stand 53 inside the exhibition hall.
For more information sayhello(at)naturalpower(dot)com or visit http://www.naturalpower.com