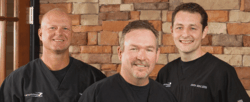 Fort Worth, TX (PRWEB) October 29, 2012
Fort Worth Dental's Dr. Terry M. Zang, Dr. Arthur J. Mund, and Dr. Justin Mund have joined a very small group of dental professionals that are fully certified and trained to provide the new Laser Assisted New Attachment Procedure to their patients that suffer from gum disease. Only one percent of dental professionals across the country can provide LANAP. With the new protocol, periodontal treatment can proceed without the need for a scalpel to cut away unhealthy tissue.
Millions of adult Americans across the country have gum disease and most of them are not actively seeking treatment. The problem is very treatable, but many people do not wish to undergo invasive treatment procedures. With the LANAP protocol these patients can receive periodontal treatment, which is only minimally invasive. The doctors at Fort Worth Dental hope that information about the new procedure will convince patients suffering from this problem to seek the much-needed and very effective treatment.
Gum disease can cause the gums to become sensitive and to bleed. Without treatment they can recede to the point where teeth fall out. Not only that, but such issues as diabetes, pancreatic cancer and heart disease have been linked to periodontal disease. For a person's overall health, treatment is very necessary. With the LANAP protocol, a very selective laser, the PerioLase MVP-7, is used to destroy the diseased tissue and bacteria. The healthy tissue is left behind to re-attach to the teeth roots and it is all handled with minimal discomfort. This laser surgery procedure is FDA cleared and has been fully tested with proven results in the fight against disease.
People who have a general fear of dental procedures and a specific fear of scalpels now have this laser alternative for treatment of gum disease. The sooner patients seek treatment the sooner the disease can be eliminated, and they can start on the path to better overall health. More information can be found at http://www.fortworthdental.com.
Fort Worth Dental is a general practice offering patients personalized dental care for Fort Worth, TX. Dr. Terry M. Zang, Dr. Arthur J. Mund and Dr. Justin Mund are all dedicated to their dental practice, which offers the recent FDA cleared laser procedure for gum disease and periodontal treatment. Focused on preventative, restorative and cosmetic dentistry, they each have unique attributes for the practice. To learn more about Fort Worth Dental and their dental services visit their website at http://www.fortworthdental.com.