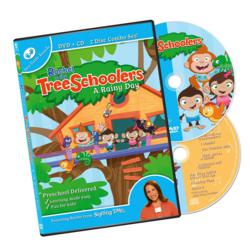 Treeschoolers is where learning meets fun.
Salt Lake City, UT (PRWEB) October 30, 2012
Two Little Hands has released the first episode of its new educational series for preschool children: Rachel and the TreeSchoolers. The show is hosted by Emmy-nominated Rachel Coleman of Signing Time, which airs on cable network Nick Jr. and public television stations throughout the United States. The new TreeSchoolers series is based on a comprehensive preschool curriculum. "We looked at current children's programming and saw that there was a need for a show that takes a systematic approach to preparing children for school success," says Two Little Hands Creative Director Emilie Brown. "We wanted to bring the full benefits of a quality preschool program directly into the living room."
Two Little Hands brought on a team of early education experts who drew from current pedagogical research to create a comprehensive curriculum framework that included the major academic areas such as language, reading, math, and science. Key social-emotional skills such as empathy, kindness, and self-control were integrated into the curriculum as well. "We weren't satisfied with stopping there, though," adds Brown. "Our goal is much broader than teaching the alphabet or numbers. We want children to actually learn how to learn so they could go on to be independent thinkers and learners."
In each episode, Rachel and her animated TreeSchooler friends follow a sequence of steps to learn something new. They wonder, ask, understand and then share what they know. Viewers are encouraged to do the same so they can take what they've learned on the show into their everyday world. Once children internalize this process, they'll use it for the rest of their lives," adds Brown.
The TreeSchoolers series carries the signature production values of Two Little Hands. "We've built on our successes with Signing Time, Baby Signing Time, and Potty Time," says host Rachel Coleman. "We know how children learn, and we know what they respond to. It was natural for us to draw on experiences over the last decade to create this show. TreeSchoolers is where learning meets fun. It's amazing to see children so engaged as they watch."
The release of the first episode of Rachel and the TreeSchoolers, A Rainy Day, coincides with the presentation of a long-term study at the Society for Neuroscience conference in New Orleans that found that the availability of educational resources in the home environment at age four had a significant impact on brain development in the late teen years. The presence of these materials at age four had a more profound impact than they did at age 8.These findings affirm the need for widespread availability of quality preschool resources for all children.
ABOUT TWO LITTLE HANDS PRODUCTIONS
Two Little Hands Productions is a leading publisher of innovative educational products that enhance children's learning and self-esteem, including the award-winning Signing Time, Baby Signing Time, and Potty Time programs featuring Emmy-nominated host, Rachel Coleman. More information at: http://www.twolittlehands.com.
###