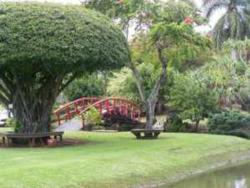 Lihue, Hawaii (PRWEB) October 28, 2012
Hawaiian Style Weddings is one of Hawaii's few full service, all-Hawaiian Islands wedding planner and coordinator. Run by entrepreneur Jana Rothenberg, the company operates on the Hawaiian Islands of Oahu, Maui, Kauai and the Big Island of Hawaii. They use over 160 different wedding vendors and still find the need to add additional members to their team.
They are happy to announce their newest member on the Island of Kauai, Smiths Family Garden and luau. Their relationship with this facility guarantee's Hawaiian Style Weddings clients get superior service and preferred seating. Discounts are also provided to their clients, their family and friends.
Not only do they offer the best luau on Kauai they provide a beautiful and private garden wedding venue on their awesome grounds. Many wedding sites exist on these grounds. One can choose to marry by the lagoon or on the small wooden bridge over the waterway. Other sites on the property include a traditional Hawaiian hut and one of the many flower filled areas with vistas of magnificent mountains in the background. It is a photographer's paradise.
They are probably most famous for their weddings at the Fern Grotto. The Grotto is up the Wailua River where a private boat can take the wedding party for one of the more romantic wedding locations in the Hawaiian Islands. People can marry under the continual flow of a small waterfall that in this tropical wonderland. This is where Hawaiian Royalty would marry as did many of Hollywood's rich and famous.
Both locations promise privacy which is something the traditional beach weddings cannot. Kauai like each of the Hawaiian Islands has a nickname and that for Kauai is the "Garden Island" and here at Smith's you truly experience that moniker.
Wedding done at the gardens can simply use one of the Hawaiian Style Weddings' packages. They will also customize one for the asking. Now that the beaches and parks on Kauai forbid chairs and arches, these gardens are a good choice for those needing those options.