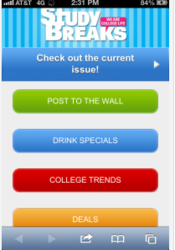 90% of consumers have taken action based on a smart phone search. It would be foolish not to get some of these consumers.
Austin, TX (PRWEB) October 31, 2012
At a time where the customer is not only always right, but always accessible by their mobile, it should be a no brainer to have a mobile website. According to Pew Research Center, 45% of cellphone owners have smart phones.
With a continuously growing market of smart phone owners, now is the time to take advantage of the novelty of having an easily accessible website for these consumers. Customer's will appreciate the fact that they can easily read and interact with your website.
CNN has an article, "Survey says most U.S. cell phone owners have smartphones; so what?" Well CNN, the 'so what' is the fact that now consumers have access to all business' information and in turn businesses have a new opportunity for marketing. Think of a place where businesses can constantly advertise to consumers...that place is the Internet on a smartphone.
Why does a business need a mobile website?
1.The consumer can quickly find information on the business as they are thinking about the business. (Location, hours of operation, phone number etc.) This benefits the company, because it takes away the "middle man" of the consumer trying to remember later that they wanted to look up the business. It also gives them an address of the business, so that the customer can instantly go there.
2. As opposed to a flyer, magazine, or newspaper ad, the information on coupons and specials can be kept up to date without any cost.
3. Mobile-optimized sites load more quickly than a website on a smartphone. This is less frustrating for the customer, breeding good thoughts about the company initially.
4. There is free advertising available through adding a Facebook page link on the mobile website. This sets up the community aspect of "liking" the business, where the consumer's friends can see that they enjoyed the goods or service from the business.
5. 84% of small businesses who have invested in a mobile presence say that they see benefits. (Source: Day and Night 365 Media)
6. 90% of consumers have taken action based on a smart phone search. It would be foolish not to get some of these consumers. (Source: Day and Night 365 Media)
7. More people buy mobile phones and tablets than desktop computers. Eventually people will just be using their mobile phones and tablets to search. (clickernewz.com)
8. Mobile websites are not expensive to set up. Many companies offer free templates to help convert a website into a mobile website.
9. A mobile website is more visually appealing on a smart phone. The customer can actively find what they are looking for instead of scrolling through text, trying to navigate a site.
10. Customers EXPECT it. At this point, not having a mobile website makes the business seem out of date and inconvenient.
A Mobile Website is Only the First Step!
Every business should set up a mobile website to become a consumer favorite! The next step that will benefit a business is creating an app, so that customers can instantly access the business' information!
Study Breaks College Media provides a one-stop solution for small businesses, providing them with big marketing strategies and delivering college students.
Study Breaks magazine is an award-winning line of monthly entertainment magazines for college students with a mission can best be explained through its slogan: We are college life. Published by Shweiki Media Printing Company, it is distributed in five Texas cities (Austin, Houston, San Antonio, San Marcos and Lubbock) and three southeast cities (Athens, GA; Auburn, AL; Columbia, SC). (Studybreaks.com)