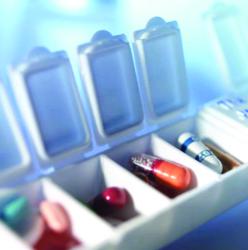 BAYADA is committed to providing solutions that improve patient health outcomes and reduce the escalating costs of health care.
Philadelphia, PA (PRWEB) October 30, 2012
BAYADA Home Health Care, a leading provider of home health care and hospice services to people of all ages, is supporting the National Council on Patient Information and Education (NCPIE) in promoting safe and appropriate medicine use through better medicine communication.
According to the NCPIE, one in three American adults takes at least one prescription medicine, and nearly half of all Americans aged 55 and above are on a prescription medicine. Medication non-adherence is an enormous burden to the health care system, and nearly half of the 3.2 billion annual prescriptions dispensed in the United States are not taken as prescribed.
"We realize the health consequences of poor medication adherence on the patients and the financial consequences on the health care system," said Associate Director Allison Sterner. "That's why BAYADA is committed to providing solutions that improve patient health outcomes and reduce the escalating costs of health care."
In July 2009, the New England Healthcare Institute (NEHI) published a report that illustrates the costs of poor medication adherence, or not taking medications correctly. Between 33 and 69 percent of medication-related hospital admissions in the U.S. are due to poor adherence, with total cost estimates for non-adherence ranging from $100 - 300 billion each year including costs for additional doctor visits, emergency room visits, hospital admissions, and additional medicines.
In-home assistance is available for those who need help with their medications to remain safe at home and to give their family caregivers peace of mind. Individualized medication assistance services include: organizing medication systems; administering or reminding about medications; communicating with physicians regarding new or discontinued medications, dosage changes, and drug reactions; educating patients and their family members about medication schedule, proper dosage, and possible side effects; coordinating resources to assist with medication access, and assessing the effectiveness of medications.
For those who do not require assistance with medications at home at this time, here are some tips to prevent errors when taking medications and receiving newly prescribed ones.
At home

Maintain a list of all current medications, including over-the-counter medications
Keep medications in their original containers to clearly identify them
Follow the directions on the label
Store medications out of reach from children and away from household chemicals
Find a way to remember when to take your medications, such as with meals
Never take someone else's medication
Dispose of expired medications
Identify the 24-hour pharmacies in your area and those that deliver in case you have an emergency in the future
Call your physician if you experience side effects
In the hospital

Bring your medical information booklet or take your current medications with you
For a new prescription, ask about the purpose, side effects, and directions
Do not let anyone give you medications without checking your ID bracelet
Before you go home, ask about any new medications and update your list
At the physician's office

Ask if you should bring your medication bottles or list on your next visit
For a new prescription, ask about the purpose, side effects, and directions
If you are given samples, ask your physician to check for drug interactions
Request pamphlets and reliable websites to learn more about your condition and medications
For help managing your medications at home, call 888-4-BAYADA to find an office near you.
Founded in 1975 by J. Mark Baiada, BAYADA Home Health Care provides nursing, rehabilitative, therapeutic, hospice, and assistive care services to children, adults, and seniors in the comfort of their homes. Headquartered in suburban Philadelphia, BAYADA employs more than 18,000 nurses, home health aides, therapists, medical social workers, and other home health care professionals who serve their communities in 25 states from more than 250 offices. For more information, visit http://www.bayada.com.