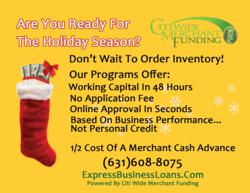 The Citi Wide Express Business Loan Only Requires A Completed Application & 1 Business Banking Statement
Amityville, NY (PRWEB) October 27, 2012
Citi Wide Merchant Funding is excited to announce that it's Express Business Loan program will be accepting an additional 500 applications this holiday season. The Express Small Business Loan program is the fastest small business financing program available. Citi Wide Merchant Funding offers programs with a fixed time and fixed payments up to 2 years. The loan application period is nearly 8 weeks shorter than a comparable SBA loan and there is no application fee.
With a simple documentation and speedy underwriting process businesses have been able to access working capital within 3-5 business days. The program offers several forms of repayment including daily, weekly, and bi-weekly payments to smooth cash flow. "We are looking for small businesses that are growing and are undeserved by the retail banking system" says Irina Martin, President of business development at Citi Wide Merchant Funding. "Seasonal and retail businesses often have a hard time receiving inventory financing in time to increase holiday sales. Our program can fund up to $200,000 in a business checking account in 48 hours". The application process only requires a completed one page application and one business banking statement. No personal financial statements or collateral is required.
About Citi Wide Merchant Funding
Amityville, New York based Citi Wide Merchant Funding, INC is a provider of small business financing to small and mid-sized businesses across the United States. Our programs are individualized to the capital needs of each business. Since 2007 Citi Wide has funded millions of dollars to businesses under-served by traditional banks. Learn more about our small business financing programs.