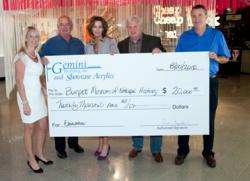 The work we've done for our clients, including Rick's Picks proves we are at the highest level possible. -- Donald Berg
Rockford, Illinois (PRWEB) October 26, 2012
Gemini Moulding and Showcase Acrylics of Elgin, Illinois, fabricators of world-class exhibit displays, has donated $20,000 to Rockford's Burpee Museum of Natural History.
Gemini Moulding was responsible for the fabrication and installation of the Burpee's newest exhibit, Rick's Picks: A Lifelong Affair with Guitars and Music. Rick's Picks tells the 40-year story of Cheap Trick's Rick Nielsen, one of Rock & Roll's hardest working stars.
Jay Graham, of GrahamSpencer Inspired Communication and Creative Director for the Rick's Picks exhibit, had this to say, "We set out to design something extraordinary--an exhibit that would be worthy of and on par with, the man that it's about--Cheap Trick's mercurial guitarist, Rick Nielsen. And Gemini nailed it to a tee. They over delivered in every way and they were an absolute gem to work with."
Gemini used best-in-industry technology and technique to fabricate rotating guitar cases allowing scores of priceless guitars to be viewed through acrylic while spinning 360 degrees. In addition, to enhance the visitor experience, Gemini created lighted modular cabinets designed to hold single guitars, including Rick Nielsen's $1 Million 1963 Guild Merle Travis Guitar. Throughout the exhibit, the fabrication team displayed photos of Rick that were direct printed to acrylic and backlit.
Christine Fetting, Sales Executive, Gemini explained, "Being involved in every aspect of this project allowed me to witness how an exhibit can reach into the community and that's exciting.  Rick Nielsen's passion for music and the city he grew up in mirrors that of the team I have the privilege of working with. It certainly makes it easy to get up and go to work everyday!"
Donald Berg, Vice President of Sales, Gemini added, "Everyone commits to being good. My vision of Gemini growing over the past ten years was never to just -- get better, yet to be the best! The work we've done for our clients, including Rick's Picks proves we are at the highest level possible. Being a part of this project has brought everything we've done for years, under one roof. From fabricating the entire exhibit, to installing the various components while expanding our design abilities, makes this rock and roll show, one of my favorite tickets!"
The exhibit opened August 11th, 2012 at Burpee Museum of Natural History, 737 North Main Street  Rockford, IL 61103 and will run through April 2013.
About Burpee Museum of Natural History
Since 1942, Burpee Museum of Natural History has inspired people to engage in a lifetime of learning about the natural world. Burpee Museum of Natural History is home to 66-million year old juvenile T-Rex, Jane as well as a number of other interactive and education exhibits. For more information, or to see a schedule of events, please visit http://www.burpee.org.
About Rick's Picks
It's Guitars. It's Rick. It's Music History. From Rockford, Illinois' skating rinks to Tokyo's Budokan, Rick's Picks tells the 40-year story of one of the hardest-working stars in Rock & Roll and as one would expect, Rick has more stories than his five neck has strings. For more information, visit http://www.rickspickslive.com or to schedule an interview, please call Brian Scranton, 970-201-8570.
About Gemini Moulding
Since 1977, Gemini Moulding & Showcase Acrylics has provided the highest quality products and customer service to galleries, frame shops, and museums. We sell the best quality in conservation supplies, fabricate vitrines, pedestals, display cases and much more. For more information visit http://www.geminimoulding.com or to schedule an interview, please call Donald Berg, 1-847-343-4459.