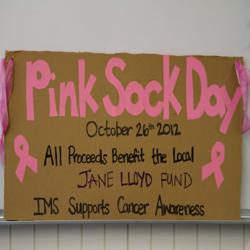 Lakeville, CT (PRWEB) October 28, 2012
On Friday, October 26 all of the students on the Upper Campus will be wearing pink athletic socks to their sporting events that afternoon in honor of Cancer Awareness Month at IMS. These pink socks were donated by the Schopp family from their store, Stadium Systems, located in Canaan, CT.
Each of our Upper Campus students has been asked to donate $5.00 for their pair of socks in support of cancer awareness. We are asking the students to bring in their donations Monday thru Friday, October 26. Students may charge this to their student accounts.
The students and the faculty at the Lower School will be wearing jeans and pink tops. Their donations will be placed in a jar in their foyer.
All proceeds will be donated to the Jane Lloyd Fund, which is a local charity in honor of Jane Lloyd, sister to our Upper Campus receptionist, Donna Stoetzner. Jane courageously fought cancer for eight years, passing away in September of 2005. This fund was founded by the Lloyd family to respond to the generosity of the community, which helped Jane when she was in need, so that others in our community might experience the same sense of well being in their own time of need. The Berkshire Taconic Community Foundation established the Jane Lloyd Fund to benefit cancer patients and their families in northwest Connecticut. The fund supports patients' day-to-day living expenses so that they can focus on healing or departing this life comfortably with friends and family. Click here to view a video produced by the Berkshire Taconic Community Foundation about The Jane Lloyd Fund.
Special thanks to the Schopp family and Stadium Systems for their generous donation of the pink socks, to Colleen Schopp, and to the IMS students, faculty and staff for their participation in raising awareness for cancer.
Donations can be made with checks payable to: the Jane Lloyd Fund. These may be given to Sheryl Knapp or Cecilia Marshall.
This event is sponsored by our Community Service Program and the Athletic Department as we continue to support our school motto: life through service.