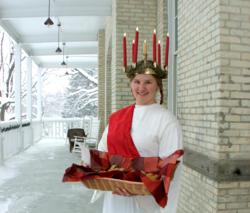 Traverse City, MI (PRWEB) October 31, 2012
It's not easy wearing lighted candles on your head.
Nevertheless, every year in mid-December a young girl in a long white robe wanders the grounds of Traverse City's former mental asylum delivering warm sweet rolls to holiday shoppers. And yes, in keeping with an old tradition, she wears a wreath of lighted candles in her hair in honor of St. Lucy, an early Christian martyr whose feast falls on Dec. 13.
It's all part of the annual Santa Lucia Day in the Village at Grand Traverse Commons, the unique residential/retail development in what was once this Michigan town's mental institution. Accompanied by flute music and carrying trays of fresh rolls from the local bakery, the young St. Lucy stand-in is one of the highlights of the holiday season in Traverse City.
These days, thanks to its growing popularity and a thriving winter recreation industry, the Traverse City region is a lively place even in midwinter. Fortunately, many of the traditional celebrations are still going strong.
Christmas preparations here start as early as October, when local churches, clubs and artist's cooperatives begin staging the holiday arts and crafts fairs for which the region is justly famous. Typical of these is the Dec. 1 "Merry Marketplace" in the village of Leland, where local artisans and growers offer fresh and dried holiday wreaths, jewelry, specialty foods, pottery, ornaments, cards and handknit items.
Gift-buying plays a big part in most holiday preparations, and in Traverse City's charming downtown district they start the shopping season on Nov. 30 with a big outdoor extravaganza that involves carol-singing, the lighting of the community Christmas tree, and the arrival of Santa Claus on a bright red antique fire engine. Downtown merchants have also cleverly devised separate men's and women's shopping nights that include refreshments and prize drawings.
Each year, residents of the village of Northport, near the tip of the Leelanau Peninsula, decorate the Grand Traverse Lighthouse for Christmas as it was celebrated by the families who lived there in the early 20th century. The annual Christmas at the Lighthouse celebration is held this year on Dec. 2, and includes refreshments and entertainment by local musicians.
One of Traverse City's most charming Yuletide events is the annual "Inn at Christmastime" open house at the Wellington Inn, where local florists and artisans literally 'deck the halls' of this beautifully restored 1905 neoclassical mansion with a spectacular display of holiday designs and decorations. This year's event will be held Dec. 9 and Dec. 16.
An entirely different kind of holiday tradition is on display at the History Center of Traverse City, housed in the former city library. It's the annual Festival of Trains, a delightful event that attracts thousands of visitors each year to watch dozens of working model train layouts created and operated by local model train aficionados. This year's festival will be Dec. 15 to Jan. 1.
Traverse City is an intensely musical community, thanks in part to the nearby presence of the Interlochen Center for the Arts. Each year, students and staff at Interlochen put on a holiday speciaI for the community. This year's Dec. 13-15 presentation is a traditional favorite -- Coppelia, a lighthearted ballet about a feisty village girl, her fiancé and a mischievous toymaker's clockwork doll.
The town's ornate 19th century Opera House also puts on a full schedule of holiday music in December, from a Dec. 2 concert by the Celtic-influenced Canadian Leahy Family to a Dec. 5 program featuring the Empire Brass and special guest star Elisabeth Von Trapp -- including a "Sound of Music" medley in which the guitar solo Edelweiss flows into an extraordinary rendition of Stille Nacht.
On the weekend of Dec. 8-9 the Traverse Symphony Orchestra presents its hugely popular "Home for the Holidays" concert, with conductor Robin Fountain leading performers and audience in a program of treasured Christmas classics, carols, medleys and holiday favorites.
New Year's Eve isn't forgotten here, either. For the past four years, hundreds of people have gathered for the annual CherryT Ball Drop, a three-hour "street party for charity" that culminates with the lowering of a large illuminated cherry over downtown Traverse City.