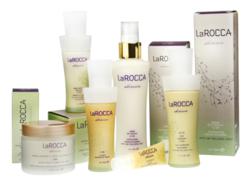 Los Angeles (PRWEB) October 30, 2012
LaRocca Skincare has announced a lineup of new retail partners carrying it's harmonious combination of potent anti-aging ingredients, cutting edge science soothing botanicals, and sustainable packaging. The LaRocca Skincare collection contains revolutionary and exclusive Cellular Gold Complex, which is made with 24K Colloidal gold to promote electron transfer with the metal ions naturally found in the skin, stimulating cell turnover. The products, which include cleansers, moisturizers, lip care and body products. encourage cell regeneration, help minimize the signs of aging and leaves your skin smooth and rejuvenated with a youthful glow.
"I am thrilled with the continued expansion on the retail distribution," says Laura LaRocca, President/Founder of LaRocca Skincare. I have spent years in the personal care industry researching ingredients, formulating products with chemists and scientists, and working with celebrities and makeup artists to understand how skin reacts to daily environmental factors. We travel around the world to find new innovations and age-old natural ingredients that are of the highest quality and come from ethical manufacturing practices and want the best for our clients."
Beautybar.com features global beauty brands it's customers know and love and niche collections that have earned their way onto its top performers list.
BeautySage,com created by Drs Mehmet Oz and Michael Roizen, a trusted source to explore the science behind beauty and share those insights with you.
JP Selects, committed to emerging brands, was created by John Paul DeJoria, who is the co-founder of Paul Mitchell Systems and Patron Spirits. They are committed to only beauty and wellness products that are proven to work - if an ingredient claims to smooth wrinkles, it does.
Sneakpeeq.com is the largest social shopping company on Facebook having partnered with more than 500 brands and
with over 300,000 users.
In addition to the new partners announced today, LaRocca Skincare is available through additional retail, spa and online ships around the world. A full listing of companies can be found on our website, http://www.laroccaskincare.com
Celebrities who adore the LaRocca Skincare brand include Jennifer Garner, Jessica Alba, Pink, Kristen Bell, Embeth Davidtz, Connie Britton, Cher, Rosario Dawson, Tyra Banks, Zooey Deschanel, Carla Gugino, Rashida Jones, Bryce Dallas Howard, Miley Cyrus, Michelle Trachtenberg, Hailee Steinfeld, Emma Roberts, Kerry Washington, Jessica Chastain, Jaime Pressly, Paula Patton, Zoe Saldana, Melissa McCarthy, Christina Hendricks, Leslie Mann,Marley Shelton, and Abigail Spencer.
To learn more, visit: http://www.laroccaskincare.com
About Laura: Laura LaRocca has established herself as an irrefutable force in the beauty industry. Formally Co-founder of the ICONIC brand DuWop Cosmetics under Laura's leadership, the company grew to be a $15 million worldwide brand. Niche products such as Lip Venom, the first topical lip plumper on the market, acquired a cult-like phenomenon. After ten years of cultivating and accomplishing her dream at DuWop, Laura created LaRocca
Skincare to develop new products designed to conquer the signs of aging.