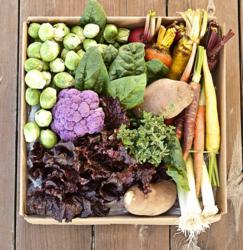 Huron, OH (PRWEB) October 29, 2012
Consumers can now bring the same ingredients served in restaurants around the world into their own kitchens with Farmer Jones Farm Home Delivery. Ingredients from The Chef's Garden farm are served in five-star establishments from New York to California and as far as Hong Kong. Chefs have looked to The Chef's Garden for the most unique, sustainably grown vegetables, herbs and greens for nearly 30 years.
Cooking at home and eating more vegetables are essential for families that value nutrition and health. Trends like Meatless Monday, which encourages people to cook without meat at least one day per week, and the new My Plate guidelines from the USDA are leading consumers to place increased emphasis on eating vegetables.
The Chef's Garden grows year round, allowing Farmer Jones Farm to deliver a rainbow of seasonal ingredients direct from the farm to the consumer's front door. The contents of each box reflect the rhythm of the seasons, so the variety changes frequently to capture the distinct flavors each season brings. The fall box features hearty root crop, like our multi-colored heirloom carrots and potatoes, as well as cauliflower, Brussels sprouts, spinach, lettuce, leeks and complementary herbs.
A subscription to The Chef's Garden's home delivery program is a great gift for the holidays. It's a gift that promotes a delicious, healthy lifestyle and shows you care about the recipient. Online ordering is available on The Chef's Garden's home delivery site – http://www.farmerjonesfarm.com.
Boxes range from the 8- to 10-pound Couples Heirloom Box to the approximately 15-pound Family Heirloom Box. Specialty add-ons change with the seasons but may include mixed edible flowers and green or gold pea tendrils. Consumers can purchase one box or sign up for a monthly subscription.
###
About The Chef's Garden
The Chef's Garden is a family farm that grows, packages, and ships the highest quality, safest and most flavorful specialty vegetables, herbs and greens directly to the best chefs in the world. The farm recently introduced the Farmer Jones Farm Home Delivery Program for the public. In order to grow foods with optimum quality, flavor and nutrition, The Chef's Garden is committed to sustainable agricultural practices that naturally replenish nutrients depleted from the soil, rather than synthetically. Read more about The Chef's Garden and owner Farmer Lee Jones at http://www.chefs-garden.com.