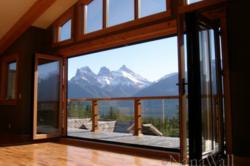 The NanaWall Energy Star units are a perfect fit for the extreme weather in Colorado. They can keep out the snow and cold in the winter and then protect from hot dry heat in the summer." ---Matt Tudor
Corte Madera, CA (PRWEB) October 29, 2012
NanaWall Systems, Inc. is proud to announce the opening of its new showroom in Colorado.
The Colorado showroom is located at 8670 Concord Center Drive in Englewood, Colorado. It features a full-range of NanaWall Systems – from SL60, WA67 and HSW60 thermally broken exterior systems to an all-glass conference room. To make an appointment to visit the Colorado showroom, contact Matt Tudor of Architectural Sales of Colorado at (303) 715-0240 x 228.
"The NanaWall Energy Star units are a perfect fit for the extreme weather in Colorado. They can keep out the snow and cold in the winter and then protect from hot dry heat in the summer," says Matt Tudor, the Colorado sales rep for NanaWall Systems. "Any new or remodeled home in Colorado is looking for a large opening to see the mountains and bring the outdoors in. Popular residential installations provide a grand transformation from a living room to a deck or a kitchen to a deck opening. Commercial buidings, too, are looking for flexible use of space for offices or entertaining like our recent projects with Rock Bottom Brewery and The Tilted Kilt."
NanaWall Systems now has 25 design studios and showrooms across North America. Each new showroom reflects a growth in demand for large operable glass walls in the luxury residential, hospitality and commercial markets. At the showrooms, homeowners, architects and builders can see and touch NanaWall sliding and folding systems in action.
"We are pleased to offer architects, design professionals and builders a chance to see and touch NanaWall® large opening glass walls that perform when closed," said Ebrahim Nana, CEO of NanaWall Systems. "The NanaWall is unsurpassed in engineering and design. We continue to add new designs and enhancements to the custom NanaWall, from thermally broken systems that meet Passive House Standards for cold climates to systems to match structurally glazed curtain walls."
About NanaWall Systems
NanaWall Systems provides operable glass wall systems for large architectural openings. NanaWalls are used in commercial and residential buildings for interior and exterior applications. The broad scope of the NanaWall product line offers the design professional unequaled freedom of choice and innovative design options. Every NanaWall is a single-source product with components designed, produced and assembled as a complete system of unparalleled quality and performance.
With over a million opening glass panels installed worldwide and 25 years of experience, NanaWall is the recognized industry leader trusted by architects, design professionals and owners alike to provide opening glass wall systems with countless style options, unsurpassed durability and superior performance—all based on a foundation of testing, research and innovation.
NanaWall Systems is located in Marin County, California with Design Studio & Showroom locations across North America. Our nationwide network of certified installers and service technicians ensure your custom-made NanaWall is properly installed. NanaWall is the exclusive North American partner of Solarlux Germany, the world leader in operable glass wall technology. For more information, visit nanawall.com or call 800 873 5673.
###