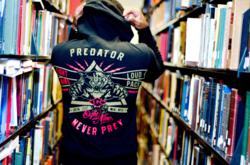 "Karmaloop has always been about the newest, freshest most interesting brands and this is just one more step in that direction." - Greg Selkoe Karmaloop Ceo
Miami, FL (PRWEB) October 30, 2012
Miami based 8&9 Clothing Company announced this week it's products will be offered through Karmaloop.com the largest online streetwear shop via an all new Kazbah Street Market. The goal of the Kazbah is to connect streetwear heads with progressive and exciting underground brands from around the world. 8&9 is just that.
Karmaloop CEO Greg Selkoe says of the new launch "Karmaloop has always been about the newest, freshest most interesting brands and this is just one more step in that direction." 8&9 is one of the east coast's fastest growing streetwear brands; with the new site launch and approaching holiday season the timing of 8&9/Kazbah partnership couldn't be more perfect.
8&9 is well known for it's street concepts, clean art, grassroots base and cult following amongst east coast sneakerheads. Kazbah shoppers can expect 8&9's Fall '12 Collection and several Kazbah exclusive releases this holiday season with a line expanding to hats, accessories and more for 2013.
To further sweeten its launch Kazbah is offering a $10 credit to all new sign-ups and the opportunity to win a $500 gift certificate. Shoppers can use this credit toward purchases of 8&9 Clothing.
To learn more about 8&9 log on to 8and9.com follow the brand on twitter @8and9 or become a fan facebook.com/8and9