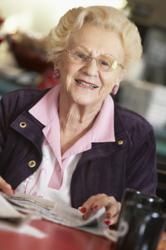 Socialization is proven to contribute to the overall well-being of older adults.
Weymouth, MA (PRWEB) October 29, 2012
Welch Healthcare & Retirement Group's five assisted living communities on the Massachusetts South Shore provide ongoing, free educational and social programs, designed to engage older adults and their families and to inform them about important health and lifestyle issues. The benefits of exercise, cognitive skill-building and socialization among older adults is well documented, and in November the Allerton House Assisted Living Communities in Duxbury, Hingham, Marshfield, Quincy and Weymouth are offering many special programs. These free presentations are designed for individuals and their families who have a serious interest in assisted living. Many of the events have limited seating and require an RSVP. Welch Healthcare & Retirement Group is a fourth-generation, family owned senior housing, services and care organization, with a history of serving seniors for more than 60 years.
On Thursday, November 1, 2012, Allerton House at Central Park in Weymouth will present a program entitled, "Nutrition & Good Health!" at 10:30 AM. Dr. Gabriellle Friedman of Family Practice of Chiropractic, P. C. is the presenter. This informational program is open to the public. However, seating is limited and reservations are required. Please contact the assisted living community at 781-335-8666.
In Hingham, Allerton House at Harbor Park is holding a program at the Hingham residence designed to educate participants on who is affected by stroke, and what the causes and treatments are. According to the American Stroke Association an estimated 795,000 Americans each year experience a new or recurrent stroke. The Thursday, November 8 noon-time program is co-sponsored by the South Shore Visiting Nurse Association. The presenter is Bob Dodaro, PhD, a speech-language pathologist with South Shore Hospital in Weymouth, MA. Seating is limited and reservations are required. They can be made by calling 781-749-3322.
There are nearly 26 million adults and children in the United States who have diabetes. Of that number, an estimated 10.9 million Americans with diabetes are age 65 or older, according to the American Diabetes Association. To help older adults recognize risk factors and learn how to keep the disease at bay, Allerton House at Proprietors Green in Marshfield is holding a free informational program on the subject on Thursday, November 15 at 5:30 PM. The program is presented in cooperation with Jordan Hospital in Plymouth. The event is being held in Marshfield at Village at Proprietors Green and features Kay Grosberg, RN, BSN, MA, CDE and Robin Trask, MeD, RD, LDN, CDE. Reservations are required and can be obtained by calling 888-706-0356. Reserve a seat as seating is limited.
On the lighter side and just in time for the holidays, Allerton House at Hancock Park in Quincy is holding a Holiday Fair in conjunction with Hancock Park Rehabilitation & Nursing Center at 164 Parkingway in Quincy. The fair will be held on Friday, November 9 from 10 AM – 2 PM. The event will feature confections, cosmetics, gifts, apparel and books. For more information, call 617-471-2600.
Clubs that revolve around specific interests or simply serve as a means for assisted living residents to gather, socialize and "catch-up" are always of interest to assisted living residents and seniors. Allerton House at The Village at Duxbury in Duxbury, MA is holding a Men's Breakfast on Thursday, November 29 at 9 AM. For seniors interested in the assisted living lifestyle, contact Allerton House in Duxbury at 781-585-7136 to inquire about reservations and available space.
Learn more about Welch Healthcare & Retirement Group and Allerton House Assisted Living Communities online at http://www.welchhrg.com