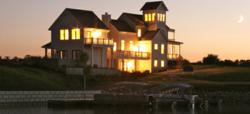 I calculate that home prices are now an astonishing one-third cheaper than the historical norm.
Ottawa, IL (PRWEB) October 30, 2012
The economic headlines may still range in the gloomy spectrum, but ironically, the current economic climate is creating one of the best home-buying opportunities in history.
The Chicago Sun-Times recently reported that throughout 2012, home prices have fallen by 30 percent or more in many locations. During the summer, mortgage rates hit 60-year lows. The average rate on a 30-year-fixed rate mortgage fell below 3.5 percent for the first time since the 1950s.
Those on the selling end of the real estate market know that for the best bang for a buyers' buck, it's an optimum time to start evaluating if it's time to buy a new home, especially a vacation home. (Second properties can be a beneficial, long-term investment; extra funds can also be earned if buyers decide to rent out their home when they are not vacationing.)
Vacation-home sales grew by 7 percent last year, as the rising cost of travel drove people to look at "getaways" closer to their primary residences. Trulia chief economist Jed Kolko tells the Wall Street Journal: "People choose second homes that are a shorter drive rather than a plane flight away."
Tammy Barry of Heritage Harbor Ottawa, premiere resort and marina community in Ottawa, Ill., says some may think of purchasing a vacation home as daunting, but it doesn't have to be. It can be a family or couple's dream — at a bargain. Buyers who do their homework, decide to move forward and make the financial investment while also taking advantage of the current housing market will see a payoff in the end. Those who wait will most likely miss out.
Barry also explains that at Heritage Harbor, settled in the center of beautiful Starved Rock Country in Ottawa, Ill., buyers get more than just an elegant, waterfront home on the Illinois River. The location of the resort and marina — 90 minutes from downtown Chicago —amenities and low-maintenance homes are appealing perks to any vacation house hunter.
Heritage Harbor Ottawa offers amenities such as its full-service marina holding more than 450 boat slips, restaurant on-site, in-ground pool, walking path and year-round activities. Plus, located in Starved Rock Country, nationally-known Starved Rock State Park is right in the resort's backyard. There are also countless outdoor activities and various other picturesque state parks. Ottawa, located on the Illinois and Michigan Canal Tow Path, is also historically known as the first place Abraham Lincoln's voice was heard — it held the location of the first Lincoln-Douglas debate. But there's plenty of 21st century allure in Ottawa as well, with unique cocktail bars, dining options, specialty shops and distinctive festivals.
In fact, last year — due to its popular waterfront homes, marina, restaurant, location and more — The Official Best of Illinois List named Heritage Harbor Ottawa its 2011 Best Vacation Resort Community.
Combine low rates and low prices and buyers have an incredible opportunity right now, the Chicago Sun-Times points out. But for most people, that opportunity will only be clear in hindsight if they hesitate. The Wall Street Journal has also already reported an uptick in home buying by investors, signaling that those who wait may miss out on a good buying opportunity.
"The two affordability metrics that truly matter are how much monthly income a mortgage consumes, and whether this is less costly than renting," Eric Lascelles, chief economist at money-management firm RBC Global Asset Management Inc., tells the Wall Street Journal. "On the first count, I calculate that home prices are now an astonishing one-third cheaper than the historical norm. On the second, real-estate website Trulia figures that buying is cheaper than renting in 98 out of America's 100 major markets. That is practically a clean sweep."
For more information, to schedule a tour of a Heritage Harbor waterfront home or for directions to the resort community, contact Tammy Barry at 815-433-5000.