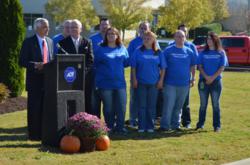 "We have seen the customer monitoring facility double in terms of the number of employees," Rhonda Rice, Knoxville Chamber.
Knoxville, TN (PRWEB) October 26, 2012
ADT, the nation's leading provider of home and small business security solutions is growing even larger in the Innovation Valley. ADT recently announced a significant expansion of their customer monitoring facility in Knox County, Tennessee, adding an additional 300 employees.
"It's been a pleasure working with ADT and seeing them grow in the Innovation Valley," Rhonda Rice, the executive vice president of the Knoxville Chamber said. "Since we started recruiting what was then Brinks Security back in 2006, we have seen the customer monitoring facility double in terms of the number of employees. Those are jobs we're grateful to have in Tennessee."
At an expansion announcement October 25, Naren Gursaheny, ADT's CEO rallied the employees and touted the expansion as a bigger deal for the company than when members of management recently rang the opening bell at the New York Stock Exchange.
"None of that compares to [Thursday]," Gursahaney said.
There was a lot of activity paving the way for the announcement. Knox County Mayor Tim Burchett traveled with Knoxville Chamber staff to meet with staff in the Tennessee Department of Revenue as well as the Tennessee Department of Economic Development to ensure tax credits could be secured for the additional jobs. The efforts are a prime example of the dedication to economic growth shared by both local elected officials and the Knoxville Chamber.
"It was a pleasure to work with Governor Haslam, the Commissioner of Economic and Community Development, our local legislative delegation and the Knoxville Chamber to help make sure ADT was able to grow in Knox County and bring new jobs. This is a good example of the importance of maintaining strong relationships with leaders across the state," Knox County Mayor Tim Burchett said. "This is another recent example of new jobs coming to Knox County, and I will continue to do everything I can to encourage economic growth in our community."
Knoxville is now ADT's IT Disaster Recovery Center after a recent facility upgrade. The 300 new employees will fill a myriad of roles for the publicly-traded company, from entry-level to managerial staff. The Knoxville Chamber estimates a $1.6 million investment will be made in the center's infrastructure with another $7.5 million economic impact through employee salaries. Further, the company plans to invest heavily in its incumbent employees, offering additional training to enhance their skills.