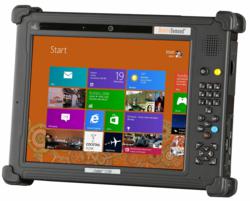 Now the new Microsoft-powered fully rugged xTablet T1200 running Windows 8 is certain to help MobileDemand customers capitalize on every minute of their day, guiding and expanding their choices, their actions and their impact.
Hiawatha, Iowa (PRWEB) October 29, 2012
MobileDemand, the nation's leading provider of Rugged Tablet PC systems in the Transportation industry, announced today the launch of the high-performance, all-light readable Windows 8 xTablet T1200 Rugged Tablet PC. This best-in-class military rugged tablet was developed to bolster productivity for mobile users who work in demanding environments such as utilities, mining, oil and gas exploration, construction, inspections, maintenance and repair, warehousing, transportation/distribution, military, police, fire, public safety, rail and intermodal.
The innovative xTablet T1200 with multi-touch resistive 10.4" LCD is powered by the latest Intel® Core™ i5-3427U processor (Ivy Bridge) and either the Windows 8 Professional or Windows 7 Professional operating system. The xTablet supports a 64 GB to 256 GB and beyond mSATA solid state drive with an option to add a second high capacity hard disk drive. It offers an integrated bar code scanner and RFID reader, built-in numeric keypad, high resolution front facing and 5 MP rear facing cameras, integrated GPS, PCMCIA, SDHC and smart card readers, 2 USB 3.0 ports and an integrated RS-232 serial port, Giga-bit Ethernet, plus 3G and 4G LTE and Bluetooth 4.0 communications. In short, the new xTablet T1200 provides everything that users who spend a majority of their day away from the office need to make better business decisions at the point of work with no-compromise performance.
"Since the beginning, MobileDemand has been an innovator of technologies for the mobile business worker, consistently delivering rugged and reliable productivity tools that have helped our customers sell more and realize long-term savings. As a result, our customers have been leading tablet adoption in virtually every industry, fueling the growth of their own companies as well as MobileDemand," says MobileDemand President Matt Miller. "We continue that tradition today by being first to market with a fully rugged tablet PC with Windows 8," Miller continues.
"From our long association with MobileDemand, we know its products keep businesses, government agencies and military operations running even in the toughest environments," said Microsoft US OEM Vice President Peter Han. "Now the new Microsoft-powered fully rugged xTablet T1200 running Windows 8 is certain to help MobileDemand customers capitalize on every minute of their day, guiding and expanding their choices, their actions and their impact. Microsoft is gratified to see partners like MobileDemand adapting portable technology to enhance productivity in any setting."
"According to VDC's research, demand for rugged mobile tablets – such as MobileDemand's xTablet T1200 – is growing at a strong clip," says David Krebs, VP of Mobile & Wireless at VDC. These rugged tablet PCs support various business and mission critical workflows and applications across a variety of markets where uptime is of absolute importance to the users. In addition to being rugged and sealed, the T1200 offers desktop performance and Windows 7, plus other unique capabilities – such as their large all light visible display, high performance data capture options, and a wide range of communication options to deliver the productivity that truly mobile workers require. With the T1200 MobileDemand is building on its history of supporting these critical users with a device that addresses their application-specific functionality requirements, especially when a significant amount of information is required to get the job done. With Windows 8 support, MobileDemand also offers a clear upgrade path for its customers and prospects," Krebs continues.
Investment protection
Those who opt for Windows 8 will be able to take advantage of multi-touch, full drive encryption of Windows Bitlocker and the Windows Defender anti-virus application and VPN. For those businesses who are not ready yet for Windows 8, the xTablet T1200 offers the Windows 7 operating system with a path to upgrade when the time is right. With Windows 7 users get all the security features plus access to Microsoft applications, company ERP systems and other business applications that only a full Windows operating system can run.
Superior performance without compromising battery life
The xTablet T1200 is powered by the 3rd generation ultra-responsive Intel Core i5-3427U processor with up to 16GB DDR3 RAM, Turbo Boost Technology and Intel HD 4000 graphics to ensure the tablet can handle even graphic intensive applications with ease.
The ultra-low voltage CPU with Hyper-Threading has 200 MHz higher core frequency and 400 MHz higher maximum Turbo Boost frequency than previous generation Intel processors. Users get twice the performance and lower battery consumption. Plus, the two industry-leading 6-cell hot swappable 116 watt-hour batteries offer nearly double the capacity of competitive tablets with up to 10 hours of real-world use.
Near 100% uptime
With the lightweight magnesium alloy casing and mSATA solid state drive, the xTablet T1200 operates in even the harshest conditions and provides all the power you need to get the job done. It is built military rugged with an impressive IP65 sealant rating to withstand rain and dust, MIL-STD 810G 5-foot drop, vibration and humidity rating and it operates in temperatures from -4F to +140F. This fully rugged tablet provides long-term savings over non-rugged devices with near 100% uptime in mission critical line of business applications.
Backed by superior support and service.
Like all MobileDemand tablets, the xTablet T1200 comes with a 3-year warranty that covers hardware failure when the tablet has been used as designed. In addition, MobileDemand offers extended coverage with its xProtect service plan for comprehensive coverage and a 3-day turnaround time.
Availability and pricing
The MobileDemand xTablet T1200 starts at $3,000 MSRP. It can be ordered with limited availability now and will be in full production in January, 2013.
About MobileDemand
MobileDemand is the nation's leading provider of rugged tablet PC systems used in the transportation industry to improve productivity, anywhere. MobileDemand xTablets are used by mobile workers in many other industries including Food and Beverage Distribution, Manufacturing, Retail, Field Service, Military and Public Sector to cut operational costs and improve customer service. MobileDemand xTablet Rugged Tablet PCs and accessories are built military rugged to withstand harsh environments. They deliver the power, reliable performance and long-term savings companies need to achieve greater efficiency and productivity in the field. In 2012 MobileDemand earned the position of 1,034 on the 2012 Inc. 500/5000 list of the nation's fastest growing private companies. The company has built its success on a commitment to innovation everywhere – in product design, customer relationships and in its channel. President Matt Miller also received recognition as a finalist for the prestigious 2012 Ernst & Young Entrepreneur of the Year award. MobileDemand. Innovation everywhere. Productivity anywhere. Additional information is available at http://www.RuggedTabletPC.com.