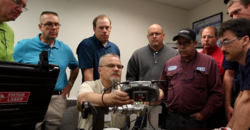 We have to do everything we can to enhance alignment knowledge and expertise.
Richmond, VA (PRWEB) October 31, 2012
VibrAlign is committed to helping businesses use their resources more efficiently and effectively by specializing in everything for shaft alignment – alignment equipment, alignment application knowledge, alignment repair and calibration services, and alignment training. Since the company's founding in 1983 the alignment experts at VibrAlign have produced extensive materials about precision alignment.
All of the VibrAlign collection of alignment materials is now being collected and made available on the new Alignment Resource Center at http://www.shaftalignment.net. The site not only provides access to articles and videos about alignment, it also provides access to all the posts from The Alignment Blog. All the content is organized and searchable.
"We're committed to realigning America, and to do that we have to do everything we can to enhance alignment knowledge and expertise in this country", says David Zdrojewski, CEO of VibrAlign.
In addition, aligners are invited to use the forum technology set up on the Alignment Resource Center to start and participate in online moderated discussions about all things alignment. It's a great way to connect with VibrAlign's trainers and alignment experts, as well as other practitioners of alignment.
With its vast knowledge and experience about shaft alignment, VibrAlign invented its own method of correcting misalignment –the Verti-Zontal® Compound Move method– which allows for the vertical and horizontal corrections to be made after just one measurement, saving valuable time and ensuring accuracy the first time around. Information about the Verti-Zontal method can be found on the Alignment Resource Center.
VibrAlign started in 1983 as a vibration and alignment service organization and later became a distributor of equipment which, appropriately, equipped our team to better serve. VibrAlign is America's exclusive distributor of Fixturlaser® – the manufacturer of the only touch screen tool available with 3D animation and sensor safeguard against sunlight. For thirty years now, VibrAlign has been growing across the country. Today we proudly operate out of local offices in every major region.