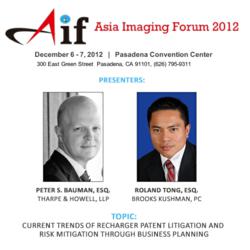 "Due to changing IP trends, remanufacturers need to stay updated on current IP practices and arm themselves with key knowledge that will protect their business."
Los Angeles, California (PRWEB) October 29, 2012
Learn about the current state and trends of patent litigation by Canon, Lexmark, and other OEMs towards the recharging industry and techniques in which businesses can employ to operate within this uncertainty to limit or hedge against the risk. Specific topics presented will include current litigation trends, best IP practices for minimizing IP-related liabilities, corporate structuring and use of insurance to defray the impact of litigation, and developing resources to assist in litigation, should it arise.
"Legal wars have plagued our industry for a very long time and due to changing IP trends, remanufacturers need to stay updated on current IP practices and arm themselves with key knowledge that will protect their business," said Sunny Sun, Director of Recharge Asia Magazine and organizer of Asia Imaging Fair. "We are pleased to have Mr. Bauman and Mr. Tong present on this very important topic at our event and we hope that remanufacturers will glean some solid information from this session in which they can put into practice."
Peter Bauman is a Senior Associate at the law firm of Tharpe & Howell, LLP. Mr. Bauman specializes in commercial litigation and business transactions throughout California, focusing on complex litigation, business disputes, and strategic business assessment and planning.
Joined with other counsel at Tharpe & Howell, Mr. Bauman brings a practical business oriented approach to the numerous legal issues that face companies in California's difficult environment. Mr. Bauman earned his Bachelor of Science degree from the University of Southern California, and his law degree from Pepperdine University, including certificates in Entrepreneurship and Technology, and Alternative Dispute Resolution. Mr. Bauman may be reached at either (818) 205-9955 or pbauman(at)tharpe-howell(dot)com.
Roland Tong is a Senior Patent Attorney at the law firm of Brooks Kushman, PC. Brooks Kushman is a multi-office, national law firm specializing in litigation, procurement, licensing, and counseling services related to intellectual property and technological matters. Mr. Tong's specialty is in preparing numerous patent applications as well as federal trademark applications.
Mr. Tong also has substantial experience in litigating patent infringement and IP-related cases. Prior to joining Brooks Kushman, PC, Mr. Tong has served as General Counsel for Future Graphics, LLC where he primarily built its IP portfolio. For two consecutive years, Mr. Tong has been selected for inclusion in Super Lawyers Southern California Rising Stars in 2011 and 2012. Up to 5% of the practicing attorneys in Southern California receive this distinction. Mr. Tong can be reached at (213) 622-3096 or by email at rtong(at)brookskushman(dot)com.
Created with the goal of bridging the global aftermarket printing consumables industry, Asia Imaging Fair 2012 is set to open its doors on December 6 and 7, 2012, at the Pasadena Convention Center, in Pasadena, California. The industry's leading companies from the US, China and other parts of the world will be there to showcase their products and services in the following areas: Digital Printing & Imaging, Ink Jet, Toner, Cartridges, Remanufacturing Products, Parts and Supplies, Aftermarket Office Supplies, Paper & Other Consumables, Copiers & Multi-Function Devices.
Asia Imaging Fair Los Angeles is organized by Recharge Asia Corporation, a media company focusing entirely on the imaging and document printing aftermarket industry.
Exhibit hall entry is free and online registration is encouraged. Tickets to Asia Imaging Fair (Los Angeles) 2012's exhibit hall can be obtained at http://aiflosangeles2012.eventbrite.com.
Asia Imaging Fair's conference program is priced at $139 for two days of talks and presentations and includes free access to the its social and networking event. Tickets to the conference program may be purchased at http://aif2012conference.eventbrite.com. Group discounts are available. Please email angela(at)asiaimagingfair(dot)com for group pricing information.