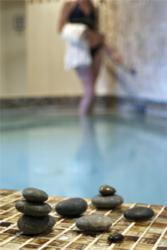 Spa Shiki is honored to be recognized for this prestigious, international award.
Lake Ozark, MO (PRWEB) October 30, 2012
Spa Shiki at The Lodge of Four Seasons announced today that SpaFinder® Wellness, the global spa and wellness resource, has named Spa Shiki as winner of a prestigious 2012 Category Award for three categories: Best for Girlfriend Getaway & Bachelorettes, Best for Families and Best for Golf. This recognition is given annually to the top-ten most-voted spas for this category by spa-goers across the world in SpaFinder Wellness' Readers' Choice Awards. Located on Missouri's Lake of the Ozarks, a popular Midwest vacation destination, Spa Shiki has earned SpaFinder Readers' Choice Awards for two years in a row.
"We are honored to be recognized for this prestigious, international award," said Ann Brown, Spa Shiki director and former member of the International Spa Association board of directors. "Spa Shiki is dedicated to providing an exceptional wellness experience for our guests, at a luxury level, and we appreciate this recognition from fans."
Once again, the 2012 Readers' Choice Awards tallied a record amount of votes globally — more than any other year in its 10-year history. As such, the Awards provide the most comprehensive consumer assessment of the global spa market available today, identifying spa-goers' favorite spas by continent, country/region and across 27 categories.
"Working your way to the top of a spa category with this level of competition is nothing short of an extraordinary feat," noted Susie Ellis, president of SpaFinder Wellness, Inc. "This Crystal Award salutes the hard work of Spa Shiki's owners and staff who achieved this honor together by delivering the highest level of services for every client, every day."
The Japanese-themed Spa Shiki features a complete spa experience for travelers, including salt-purified whirlpool, far infrared saunas, eucalyptus-infused steam rooms, fireside spa sanctuary room, indoor/outdoor pool and fitness room. Spa Shiki offers an extensive menu of massages, body treatments, facials, wraps, hydrotherapy, pedicures, manicures and salon treatments for local guests and travelers looking for a spa getaway. In addition to receiving honors from SpaFinder, Spa Shiki was recognized as the top resort spa in the Midwest by Spa Magazine for 2012.
Readers' Choice Awards are based on votes submitted worldwide at SpaFinder Wellness' global consumer websites (including SpaFinder.com) and by readers of SpaFinder Wellness digital publications. Voters were asked to cast ballots only for stay and day spas they've personally visited within the past three years.
Complete List of 2012 Winners
The complete list of winners of the 2012 SpaFinder Wellness Readers' Choice Awards can be viewed here: http://www.spafinder.com/rca. Only three other spas in the Midwest were recognized with SpaFinder awards: The Peninsula Spa by ESPA at The Peninsula Chicago (Best Urban Hotel Spa), The Spa at Trump in Chicago (Best Urban Hotel Spa) and Four Seasons Hotel, St. Louis, Missouri (Best for Accommodations and Best Urban Hotel Spa).
About SpaFinder® Wellness, Inc.
SpaFinder Wellness is a wellness discovery engine that connects millions seeking a healthier, happier lifestyle with wellness providers around the globe. Its unique digital platform gives people everywhere the ability to discover, search, evaluate and reserve the services they want, at the time, location and price that they desire – whether they are seeking spa, fitness or wellness experiences. SpaFinder Wellness is the largest retailer and wholesaler of gift cards for the spa and wellness industry, and also offers SpaFinder Wellness currency to support corporate wellness programs to help employees maintain healthy lifestyles. For more information, please visit http://www.SpaFinder.com.
About Spa Shiki
Located at The Lodge of the Four Seasons on Missouri's Lake of the Ozarks, Spa Shiki is one of the region's largest resort spas and ranked as the best spa in the Midwest by readers of Spa Magazine. Providing skilled therapists that receive continual education through the American Spa Therapy and Education Certification Council and more, the Japanese-themed Spa Shiki offers a comprehensive array of health and wellness treatments and is dedicated to educating guests on the benefits of spa. Spa Shiki is a member of the International SPA Association, recognized worldwide as the professional organization and voice of the spa industry, representing more than 3,000 health and wellness facilities and providers in 75 countries. Missouri's Lake of the Ozarks is one of the world's largest man-made lakes. Visit http://www.spashiki.com.