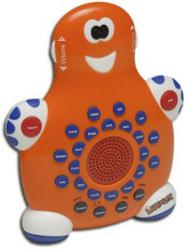 A day without laughter is like a day without sunshine.
Columbus, Ohio (PRWEB) October 28, 2012
The World Laughter Tour is now selling on its website Laffy Laffalot, the most hilarious laughing toy ever sold. At the touch of a button, children can hear 20 hilarious pre-programmed, MP3 high-quality LAUGHS. They can hear a hearty belly laugh, the giggle of an infant or a silly snort. Instantly puts a smile on kids' faces by hearing messages or laughter from a loved one which you can pre-record into custom buttons. Laffy Laffalot can lift the spirits of anyone who may be feeling blue or just needs a good chuckle.
Psychologist Steve Wilson, Director of National Humor Month and Founder of World Laughter Tour, says, "Ever since Thomas Edison invented the phonograph, the earliest recordings were of the sounds of laughter. This is because it opens neural pathways to pleasure and has been found to have a soothing, health and healing influence. Laughter is also powerful because it is naturally contagious. Let's start an epidemic."
A world recognized expert in applied and therapeutic humor, Wilson added, "Kids of all ages will instantly fall in love with Laffy Laffalot! Imagine a 7-year-old child in a sick bed. Mom and dad, brother and sister visit him in the hospital every day. He gets lots of love and affection, but he is sick. Now imagine that child pushes a button and gets his dad to smile or sister to giggle - it can break the tension and help everyone feel better."
"Timmy, mom and dad love you very much and everything will be ok, we will see you tomorrow." The MP3 sound quality will make it feel like mom and dad are in the room, even when they can't be. Or maybe the child misses the family pet or playing soccer since being in the hospital. The family could record the family dog barking or the soccer team leaving a group "Get Well Soon", "Happy Birthday!", "We love you!" message. The ideas for custom messages are endless. It's easy, and may help a child get through a bad day or tough treatment.
Wilson has an extensive collection of recorded laughter. "I have been collecting laughing toys for many years. This is the most exciting one I have ever seen. The 10" tall Laffy Laffalot surely at least deserves the title of Laughing Toy of the Decade!"
A portion of all sales of Laffy sold goes to The National Children's Cancer Society.
It comes with a built-in speaker, MP3 quality sound, headphones that won't hurt small ears and two AA batteries.
Laffy Laffalot passed the required tests from the Consumer Product Safety Improvement Act of 2008. The audit was conducted by SGS International, the world's leading inspection, verification, testing and certification company for consumer products. This conforms to safety requirements of ASTM F963, EN 71.
"More than a toy," Wilson says, "Laughter is a tool that can lift spirits, promote healing, and it is a therapeutic ally for every primary treatment. Laffy should top this year's gift list."