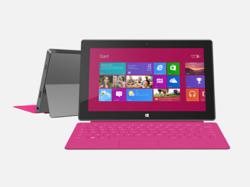 A certain macroruffian-giganticus seems to be so uncertain of the future survival of its primary operating system products that it is apparently quite willing to eat its own friends while yet alive.
Austin, Texas (PRWEB) October 29, 2012
Parts-People.com provides an editorial opinion piece on the Microsoft Surface Tablet which explains: "A certain macroruffian-giganticus seems to be so uncertain of the future survival of its primary operating system products that it is apparently quite willing to eat its own friends while yet alive, with a goal of entrenching itself in hardware design and manufacturing." That article mentions the simple fact that Microsoft has been actively posting job openings seeking a variety of hardware design and testing engineers.
That editorial opinion points out that while the physical form-factor of the Microsoft Surface tablet resulted in a functional and interesting device rightfully deserving of recognition, it is not an earth-shaking innovation as so frequently shilled by tech industry press. The article by Paul B. Wordman explains that the excitement about the Surface tablet goes a long way toward validating a variety of hybrid laptop form-factors "including Rotators, 360-Degree Gymnasts, Dockers with split personalities, and unique industrial designs meant for dedicated corporate and military applications".
2013 - 2014 Hybrid & Convertible Tablet-Laptops
That editorial opinion piece covers an undeniable convergence trend for upcoming 2013 - 2014 convertible and hybrid laptop-tablets. The article's assessment expands on the PC device convergence trend by concluding that trend is driven by end-users' demand for the best of both laptops and tablets in one easy to use device, with seamless switching, and no loss of function, performance, or convenience in either mode. The article points out that end-users will have exactly that no later than the end of 2014, and says it's quite likely quad-core and better smartphones will act as plug-in memory and CPU enhancers in some devices with designs similar to the ClamCase ClamBook."
Parts-People Microsoft Articles by Paul B. Wordman
Microsoft Surface Tablet is Not a Shot Across the Bow: It's a Real Torpedo – Opinion
Microsoft Explorer Touch Mouse Gets Tactile for Windows 8
Microsoft Windows 8 Release Date & New Austin Retail Store
Windows 8 Features vs Windows 7 – Executive Guide Release
About Parts-People.com
Parts-People.com now stocks more than 250,000 Dell laptop parts, and operates an online store offering one of the largest selections of Dell replacement parts on the internet.
The company delivers an online comprehensive knowledge-base resource center, with technology information services which include the Technology News, Analysis & Assessments section of the web-site. Some of those technology news articles have the goal of making geek fun, with things that make one say wow.
Roscoe Dyer, Parts-People's Director of Social Media, offers daily production of online tutorial, do-it-yourself, how-to-repair laptop videos, and continually updated Dell Repair Manuals (Click Here).
The online store at Parts-People.com serves a large number of school districts, businesses, individual consumers, government agencies, and non-profits that do not, or cannot make eBay purchases for various reasons. The technical staff is a team of experts trained to work on Dell products exclusively; a substantial reason that individuals and organizations ship their laptops to Parts-People from all over the world, for repair and service.
Parts-People.com continues to increase parts inventory in Austin's growing technology hub, and now stocks more than a quarter of a million Dell Laptop Parts physically in-house, on-site, and ready to ship the same business day.
Established in 2002 as a start-up, entrepreneurial, family-owned business, the company's rapid growth in 2003 was the incentive for a move to consolidate operations in 14,000 square-feet of mixed office, warehouse, and retail space. (For Parts-People History Click Here > http://www.parts-people.com/company.htm)
Parts-People's growth is bolstered by its location in Austin, which is recognized world-wide as a technology hub. The area is also home to offices of companies such as: AMD, Apple, Cirrus Logic, Dell, Evernote, Facebook, Freescale, Google, HP, IBM, Microsoft, National Instruments, Nvidia, PayPal, Silicon Labs, and 3M. Frequently called Silicon Hills, Austin is also known to art, music, and SXSW (South-by-Southwest) aficionados as simply, "the ATX".
Contact Information
Parts-People.com can be reached toll-free at 866-816-5254. The main phone number is 512-339-1990. Fax: 512-339-1996. Technology Journalist: paul.b.wordman(at)gmail(dot)com, paul.bottoms.wordman(at)turbo12(dot)com. Company E-mail: info(at)parts-people(dot)com.