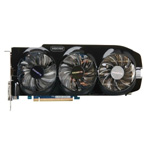 Atlanta, GA (PRWEB) October 31, 2012
10rate editors Brian Jones and Steve Holdgren cut through all the choices out there in the computer parts and software categoreis to come up with their top choices. According to the Best Graphics Card page at 10rate.com they selected their top choices based on the following criteria:
1. The amount of video ram and GPU clock speed
2. Types of video outs from the card
3. Maximum supported resolution and resfresh rate
4. Number of video processing cores
5. Multiple display support
6. Ability to run with other graphics cards
7. Price and performance
EVGA, Diamond, and GIGABYTE all had highly rated graphics cards according to the reviewers. They said, "This may only be a 2GB graphics card in a world where they are stepping up to 3GB and 4GB, but the GeForce GTX670 FTW is able to hold its own. It has 1344 processing cores to really make it blazing fast," when reviewing the EVGA GeForce GTX 670 FTW.
Editors also evaluated and selected the Best Motherboard based on the following:
1. Widest range of processor support
2. Memory amount and speed capacity
3. Plenty of fast PCI, SATA, and USB connections
4. Graphics card support
5. Heat guard, fast boot, USB boost, etc. features
6. On board sound output capabilities
7. Price
According to reviewers ASUS and GIGABYTE figured prominently in the rankings. When reviewing the ASUS motherboard, editors noted some of the highlights. "The ASUS P8Z77-V Deluxe motherboard should satisfy the needs of just about any home computer. This thing will provide the means to make a serious powerhouse of a computer. The features will blow your mind. It will support the latest Intel processors and it has a 32GB max of ram."
Lastly, editors chose the Best Video Editing Software with Adobe, CyberLink, and Corel all being selected according the the Top 10 list. The Adobe's software is "really made sure that the ease of use in Premiere Elements 10 was one of the most important features. The smart tagging and InstantMovie features are where this is really apparent."
10rate.com conducts reviews in various product and services categories and publishes "Expert Top 10 Lists for Everything in your life." The company's web site strives to "Make it Easy" to select from the hundreds of choices there are in the product and service market place. All products and services are thoroughly researched by the companies expert editors prior to receiving a rating on a 1-10 scale. In addition to product reviews the companies editors write guidelines, buying guides and articles on various topics surrounding each product or service category covered to help educate the consumer.