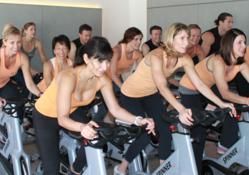 Studio Pulse doesn't promise you will get fit in one day.. Studio Pulse doesn't promise it will be easy... but Studio Pulse does promise it will be fun, effective and long lasting.
(PRWEB) October 30, 2012
Lets be honest..There are 2 types of people in the workout world. Those who love to sweat and feel like they have just melted off 10 lbs in the latest cardio burn class and those who like to do bicep curls. Alright so maybe that is an exaggeration but it is an arduous task to steer someone towards a complete fitness routine once they have formed their habit. There is one hope however...education!
Once there is an understanding of the necessity of a complete fitness routine, it is hard to ignore the benefits. A cardiovascular workout helps to increase endurance while burning fat as fuel and basically helping to get a leaner and slimmer physique. A strength training routine gets muscles stronger, increases metabolism and gives the body a very desired definition. A flexibility routine relieves the tired and overworked muscles of tension and tightness, and if done correctly helps clients avoid injury.
There are numerous workout studios popping up like Starbucks that combine many different exercise disciplines and trends; Yoga+pilates, weights on spinning bikes, yogasurfing, hot yoga with dumbbells!! But there are studios that give clients true and honest information with lasting results and no frills. Studio Pulse doesn't promise their customers they will get fit in one day...they don't promise it will be easy... but they do promise it will be fun, effective and long lasting. They do not want to introduce a new fad. As a matter of fact, they want to prove how tried and true techniques can get people further in the long run and keep them safe and injury free opposed to the "get fit fast" techniques.
SPINNING(r) is an intense cardiovascular workout that is virtually without impact. That means "if" people are set up correctly on the bike and follow the Spinning guidelines for form and alignment, they will not be held back by injuries. "We get a lot of injured runners in our studio will heel spurs, or knee problems etc. They come to do indoor cycling because their doctor recommended it as a way to heal and strengthen their muscles without impact, or because they just cant stand the pains that come with high impact activities like running and heavy lifting, " say Hedi Alavi, co-owner of Studio Pulse.
A new Tone Up & Lean Out Program at Studio Pulse proves just that. The staff at Studio Pulse wants their clients to set goals and work toward them safely and effectively. For the people who want to gain muscle, definition and get stronger, the Tone Up program adds a considerable amount of strength training along with heavy resistance and climbing on the Spinner bikes. For the people who want to lose fat and Lean Out, Studio Pulse recommends more endurance building cardio work on the Spinner bikes, high cadence and moderate resistance while keeping the heart rate in the fat burning zone.
Being clear with your goals is the only way to begin a path to a healthy lifestyle. Once that is established, Studio Pulse can put together the right workout for each person. Fitness goals need to be achieved in balance. And the right mix of cardio, strength training and flexibility training is key. So if you're the type of person who is a cardio junkie, try some weight training, and if you just like to lift weights, try adding in a little cardio and stretching.
About Studio Pulse
Studio Pulse, a Mad Dogg licensed facility, combines Spinning classes with strength and flexibility using fundamental training techniques, exhilarating music and a unique mind/body philosophy, all at a self-directed pace. They hold a very accommodating class schedule for SPINNING and Fusion classes that combine Spinning and Cross Training. Their tagline, "Spin Sculpt Stretch," covers all basics of a healthy fitness routine by incorporating cardiovascular, strength and flexibility training in one place. At 50 classes per week you'll find a convenient time to meet your schedule. Classes are offered as early as 6:00am and as late as 7:30pm.