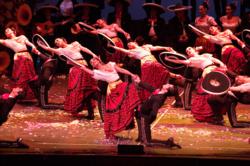 Modesto, CA (PRWEB) October 29, 2012
Admired worldwide as one of Mexico's premier cultural representatives, Ballet Folklórico de Mexico de Amalia Hernandez will take the stage at the Gallo Center for the Arts on Wednesday, November 10 at 7 pm. It is the troupe's debut performance at the Gallo Center.
Tickets are on sale now and range from $20 to $50. Groups of 15 or more are eligible for a 15% discount. For tickets and more information, visit GalloArts.org or call (209) 338-2100.
Dancer and choreographer Amalia Hernández founded the Ballet Folklórico de Mexico in 1952 to preserve the dancing traditions of Mexico. Her goal was to share the beauty of Mexican dances from the Pre-Colombian era, the Hispanic Viceroy period, and the popular period of the Revolutionary years, with an international audience.
Hernandez and Ballet Folklórico de Mexico have have long since been recognized as one of most esteemed dance ensembles in the world. The company has created more than forty ballets for upwards of seventy dancers, given more than 5,000 performances, and both Amalia Hernandez and her troupe have received more than 200 awards honoring their artistic achievements.
The Gallo Center for the Arts' 2012-13 Premier Partner is Boyett Petroleum.