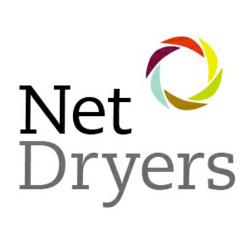 The newer, high-performance hand dyers demonstrated here today will help more organizations eliminate or reduce paper usage with much greater public acceptance.
Chicago, IL (PRWEB) October 31, 2012
New hand dryers seem to be introduced frequently these days after many years of technology neglect. At the recent ISSA/Interclean trade show (the Worldwide Cleaning Industry) in Chicago, IL October 16-18, companies from around the globe featured their latest hand dryers. Since most of the world could not be there, NetDryers, a Chicago-based hand dryer distributor, produced a video featuring the many hand dryer booths and new technology. To view the video, please visit the company here.
Featured in the video are hand dryers and the trade show booths featuring the Dyson AirbladeTM hand dryer, Excel Dryer and their XleratorTM hand dryer, World Dryer and their new SMARTdri PlusTM hand dryer, American Dryer and their ExtremeAirTM hand dryers, ASI and their new Triumph hand dryer, Saniflow and their new DualFlow hand dryer, Bobrick, Biolos, Veltia, and Palmer Fixture and their new iStorm hand dryer.
George Campbell, President of NetDryers, was impressed by the variety and new performance levels demonstrated by many of the new market entrants. "With 1 M tonnes of landfill generated in North America each year by commercial paper towels, we are seeing more and more organizations look to smartly incorporate hand dryers into their facilities to reduce both the high costs and massive waste streams generated by paper towels, especially those with a zero-waste goal," said George. "The newer, high performance hand dryers demonstrated here today will help more organizations eliminate or reduce paper usage with much greater public acceptance."
In addition to improving the dry times and energy consumption of the products, many of the new hand dryers are now featuring hygiene technology like HEPA (High Efficiency Particulate Air) filters to remove bacteria and mold from the air that is used to dry hands. Dyson introduce HEPA filtration when it introduced the Dyson AirbladeTM 6 years ago. Excel introduced a HEPA filter for use with the Xlerator, and many of the new hand dryers featured HEPA filters, including Triumph, iStorm, and Biolos. Also, many newer hand dryers are featuring anti-microbial surface coatings, another innovation that Dyson pioneered.
"Hand dryers are much more accepted in Europe and Asia, but with all of the new innovations, it's just a matter of time before they are a much larger part of the American bathroom landscape," added Mr. Campbell.
NetDryers is an eCommerce company that helps organizations reduce their cost and waste streams by incorporating hand dryers. NetDryers carries most of the major hand dryer brands and features best sellers like the XleratorTM (from Excel Dryers), SMARTdriTM and SLIMdriTM (from World Dryer), the Dyson AirbladeTM, and the ExtremeAirTM series (from American Dryer).
For more information, visit http://www.netdryers.com