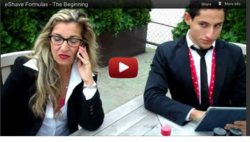 Follow along with the team at eShave as good versus evil battle it out to get a hold of the secret formulas needed to launch eShave's new products. With a not so subtle nod to the 007 icon, this new campaign will engage and entertain fans everywhere.
New York, NY (PRWEB) October 30, 2012
With its creative, inspiring and bold vision, eShave – the leading brand of modern inspired men's grooming products and accessories - has long been known for its forward-thinking marketing strategies. Today, the brand is pleased to unveil its newest product launch campaign with a series of short spy films inspired by the missions and romantic dalliances of the action-packed 'James Bond' series.
eShave has always taken pride in its innovative marketing campaigns, from mobile ads to social media interactions, the niche grooming brand rolls out something new and creative for each new product introduction. This latest creative endeavor is no exception with a 'James Bond' inspired short spy film as a prequel to the new product launches this winter.
"This purpose of this video was two-fold. Obviously, we wanted to kick things up a notch with an innovative product launch campaign that would engage and entertain our customers as we introduce several exciting new products over the coming months," commented Danielle Malka, President/Founder of eShave. "Secondly, we want to show people just how fun our team really is. At eShave, there are no egos. We are a goofy, fun, and energetic bunch and this video captures our vibe."
For this new campaign, eShave's creative team stepped out from behind the curtain and in front of the camera as a Bond character. The 'Boss' (Malka herself) calls on her 'Spy' in order to help her launch eShave's new products. His mission is to get the new product formula's from the office; except the only problem is that the Villain and his team are out to stop him from getting a hold of them. Now that they know where the formulas are stored…will the Spy be able to outsmart the band of villains and get the Boss the formulas she needs to create eShave's new men's grooming products?
If successful, eShave will be rolling out a series of short spy films – a la eShave style - as good versus evil fight their way to get their hands on the new product formulas. On the website, in addition to the film, fans can view the silhouettes of the new products. Upon completion of each mission, the new product will be revealed along with a short 30 second video clip.
The check out the video, visit: http://eshave.com/eshave007
About eShave:
Since 1996, eShave has been "All A Man Needs for the best shave Ever." Specializing in the finest quality grooming products and accessories, all of which are handmade in New York City, eShave brings a modern touch to the most traditional way of shaving. The award-winning brand is recognized around the globe for delivering the smoothest shave possible free from razor burn, shaving-related bumps and irritation, ingrown hairs, and the 5 o'clock shadow.
eShave products are available online at http://www.eShave.com, eShave New York at Rockefeller Center and in select upscale retailers/spas worldwide. 1-800-94-SHAVE / info (at) eShave (dot) com
Media Contact: Shelly Cellak | shelly (at) burgeonagency (dot) com | 773.398.6154