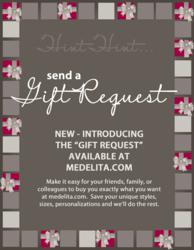 In the end, it's all about finding ways to emulate an in-store, concierge experience while shopping online
San Clemente, CA (PRWEB) October 26, 2012
Medelita® has launched two new web applications that will provide its lab coats and scrubs customers with more personalized recommendations for which garments and products will fit the best or will make the best gifts for doctors this holiday season. Purchasing a personalized lab coat for a woman or a man as a gift will now be easy with the site's new "Request A Gift" feature, and purchasing a new lab coat for oneself will be even easier with the company's new "Personal Shopper" feature.
Using Medelita's "Request A Gift" application, users can select from a full list of designer lab coats and scrubs, their preferred sizes, embroidery color or style, and can even add their full name or title to their desired garments. Once a user has finished building their gift request, they can save it for later or send a personal link to their friends, family, or colleagues directly from the application. A special email is generated informing their selected recipients that the user has built this gift request in order to provide them with an easy way to purchase that special gift the user has always wanted from Medelita, complete with the user's personalization preferences intact.
The "Personal Shopper" application is just as exciting, in that Medelita customers can now receive instant recommendations for exactly which products will fit the best based on body type, and which lab coats or scrubs will be the most appropriate for them to purchase based on their specialty. For instance, in the world of medicine it is an unspoken rule that the physician with the most credentials or highest reputation generally wears the longer lab coat. Using a sophisticated algorithm to calculate the best recommendations based on several inputs, Medelita will ensure that its customers will know exactly which lab coat or set of scrubs to purchase in order to look their best and appear the most appropriate in their respective field or specialty.
According to founder, Lara Francisco, PA-C, "Many of our customers have told me that they would like to receive a lab coat as a gift, but it's hard for their colleagues or family to purchase the right one for them without knowing extremely detailed information about their measurements and personal preference. The Gift Request solves that problem for everyone involved in shopping for a lab coat or purchasing a set of scrubs, and in the end our customers receive something special that is exactly what they want. The same goes for The Personal Shopper. In the end, it's all about finding ways to emulate an in-store, concierge experience while shopping online."
The new tools can be found for now in Medelita's Gift Portal, found at http://www.medelita.com/medelita-gifts. Or users can visit http://www.medelita.com/request-a-gift to use the Gift Request or http://www.medelita.com/personal-shopper to experience the Personal Shopper.