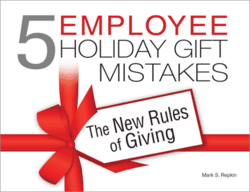 The best option is to let the employee select their own gift.
Oak Brook, IL (PRWEB) October 30, 2012
Select-Your-Gift, a leading provider of employee gifts and recognition, is offering companies help to avoid the typical mistakes often seen with corporate holiday gifts. The holiday season is a great opportunity to say Thank You to employees in a memorable and personal way.
However, in the planning stages, especially when the gift-giving committee assembles, there are some startling similarities to how the gift decision plays out, with less than perfect results.
"The holidays are a time when employees can't help but anticipate their 'reward' for the past 12 months," says Mark Repkin, a leading expert in employee motivation, and author of this gift-giving guide. "But it's also a time when employers fumble the opportunity. I want to help prevent employers from making the same mistakes I've seen countless times over the years."
Companies want to show employees their gratitude, and would like to give a gift that will make them smile. They're looking for a great gift with memory value, without breaking the bank. A gift that says, "Thank you for all you've done. You are a valued employee".
Smart companies recognize the diversity in its workforce, and know that "one size doesn't fit all". It's virtually impossible. So, these companies avoid attempts to select a single gift to give to everyone, hoping that all their employees will like and use that same gift.
According to Greg Kern, Executive VP of Select-Your-Gift, "There are much better solutions available today. The best option is to let employees select their own gift. That's why most companies give Gift Albums for holiday gifts. Gift albums, or gift catalogs, are designed to let recipients choose any one gift from the provided printed catalog, or its companion online version, and the gift is quickly shipped directly to the employee."
With Gift Albums, the main decision is simply the value of the Album, as determined by the company's holiday gift budget. Suppliers of Gift Albums offer many price levels, making one available for almost any budget. Select-Your-Gift offers many album levels, starting as low as $16. Best of all, their gift album packets can be customized with a company logo and holiday message to employees.
Gift Albums from Select-Your-Gift include an Employee Christmas Gift Presentation Packet that can be tailored to the company. Companies can view and select from the available holiday album-covers and holiday stationeries. The selected stationary can optionally be printed with the company's message and logo, creating the ultimate gift packet.
With years of experience giving holiday gifts to employees, Kern says, "There are two key points when choosing gifts for employees: give employees a gift they want and can use, and include a personal message. Holiday gift albums, in custom tailored presentation packets, accomplish both of these goals."
This year, don't let coming up with great employee holiday gift ideas be a time consuming and stressful task. Download Five Employee Holiday Gift Mistakes to Avoid
To get a sample holiday packet, and see all the new Holiday Gift Album Presentation Options for employee gifts, visit http://select-your-gift.com/employee-christmas-gifts.htm
About Select-Your-Gift, Inc.:
Select-Your-Gift, Inc. is a leading incentives and rewards company, specializing in employee gifts, recognition awards, and online points-based incentive programs. The company helps businesses recognize and retain their employees and features the highest quality customizable gift album Presentation Packets for employee incentive or recognition programs, all at discount prices.