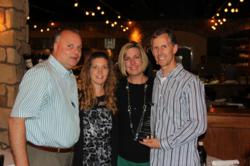 it was an incredible three days of sharing ideas, training, and updates
El Dorado Hills, CA (PRWEB) October 30, 2012
Luxury Home Magazine (LHM) is the leader in the market specific presentation of luxury homes and the luxury lifestyle and has been delivering powerful results since 2001. Often referred to as a "Coffee Table Magazine", LHM features exceptional homes currently offered for purchase in select markets across North America. Luxury Home Magazine's bi-monthly, targeted delivery to the wealthiest and most affluent buyers and sellers of luxury real estate provides a solid source of qualified leads for its advertisers. Luxury Home Magazine operates one of the most viewed websites offering luxury homes for sale and has a powerful connection to multiple social media outlets.
During the 3rd week of October, 2012 the Publishers of Luxury Home Magazine from across the United States gathered together in Northern California to participate in a 3 day training event and Annual Meeting. The training focused on the increased distribution of new digital and social media as well as served as a platform for Publishers to share best practices which improve how each market is operated. Several portions of the training were conducted by different Publishers whom shared real life examples of the subjects they spoke on.
One of the highlights of the Annual Meeting was the presentation of awards to various Publishers in 15 different categories. The winners of the awards as follows:

Best Front Covers
"The LHM Hurdle" Overcoming Obstacles
Presented to: Troy & Maria Finlayson –Luxury Home Magazine of Greater Seattle
Largest Consistent Page Count
Presented to: John & Angela Stacy – Luxury Home Magazine of Arizona
Presented to: Gens Linton – Luxury Home Magazine of Washington D.C.
Best 2 Page Spread with 1 Listing
Best Use of LHM Website
Distributor of the Year
Presented to: Tim & Angie Crenshaw –Luxury Home Magazine of Silicon Valley | Peninsula
Presented to: Tomas & Christina Martinez – Luxury Home Magazine of San Antonio
Presented to: Jason Oleniczak – Luxury Home Magazine of Dallas | Fort Worth
Presented to: Amber Krause – Luxury Home Magazine Tampa
Presented to: Emile Bonfiglio – Luxury Home Magazine of Oregon | SW Washington
Creating Unique Ways to Circulate
Presented to: Torey Lam – Luxury Home Magazine of Hawaii
Presented to: Kim Woodhouse – Luxury Home Magazine of Denver | The Front Range
The awards were presented by Brad Taylor- CEO, Cathy Taylor- CFO and Emile Bonfiglio- SVP. Brad Taylor commented that "it was an incredible three days of sharing ideas, training, and updates on our web/social media/digital platforms, new marketing and where Luxury Home Magazine will be positioned in our niche publishing industry as we continue opening new markets in 2013."
Luxury Home Magazine is a division of LHM Media Group, a brand publication of Sunshine Publications, Inc. online magazine content and more corporate information can be found at luxuryhomemagazine.com. Follow Luxury Home Magazine on their blog, facebook and twitter (@luxuryhomemag) for constant updates on the latest in luxury real estate. Contacts: Brad Taylor- CEO, 916-458-6010, brad (at) sunshinepub (dot) com
About Luxury Home Magazine:
Luxury Home Magazine is a division of Sunshine Publication, Inc. Online magazine content featuring stunning luxury and the finest luxury real estate and more corporate information can be found at LuxuryHomeMagazine.com
###