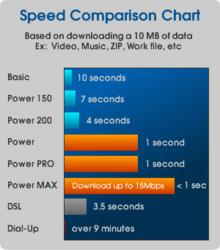 "Our mission is to provide high speed internet to areas less served and with nearly 25% of rural communities having no broadband access as of the most recent FCC report, we knew we had an obligation to expand our offering
(PRWEB) October 29, 2012
BroadbandBLUE, a leading provider of wireless internet that utilizes the Sprint 3G/4G network, is announcing they will offer satellite Internet utilizing leading provider HughesNet. BroadbandBLUE will now offer HughesNet Gen4 satellite Internet as a high speed broadband alternative for users in rural areas. With nearly 119 million Americans without true broadband internet, the expanded offering will help close that gap. The service will feature 15Mbps speeds with plans starting at $49.99 per month.
HughesNet Gen4 Internet provides the performance demanded for high bandwidth applications like video and music streaming which was limited in previous versions of the service. The service is ideal for people residing in areas where high-speed landlines are not available.
"This new offering via HughesNet is a key for us to expand and serve our key customers in rural areas," noted Frank Conley, Vice President of Communications for BroadbandBLUE. "Hughes was a maverick and innovator in the development of the satellite broadband industry and this offering via their network will allow us to truly compete on a level playing field with cable and DSL providers."
"Our mission is to provide high speed internet to areas less served and with nearly 25% of rural communities having no broadband access as of the most recent FCC report, we knew we had an obligation to expand our offering," said Conley.
How important do you feel that universal broadband access is in America? We'd like to know! You can share your opinion in our quick 3 questions survey - click here to start