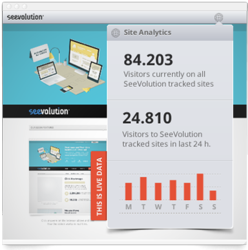 SeeVolution was created to give webmasters a simplified visual avenue to their real-time analytics
Los Angeles, Ca (PRWEB) October 26, 2012
Clicking through pages of analytics can exhaust even the fiercest of website owners. As a solution, Manhattan Beach-based startup SeeVolution developed software that overlays a website's real-time analytics and a variety of useful heatmaps onto a site. Site owners now have instant access to their analytics without the inconvenience of navigating away or logging in elsewhere.
The company—which was developed to give website owners an intuitive glance into the minds of their visitors—released their own re-mastered website yesterday.
The clean, unique design features individual demos of SeeVolution's suite of proprietary website heatmaps that include click heatmaps, scroll heatmaps, mouse movement heatmaps and live click heatmaps—all designed as visual guides to understanding how a website's visitors are interacting with a site.
Edo Cohen, SeeVolution's founder, says the new features are only the first step in a line of developmental pursuits the company has in the works for the near future. The majority of real-time analytics providers focus only on metrics and statistical solutions; Cohen says SeeVolution was created to give webmasters a simplified visual avenue to their real-time analytics.
After installing a script snippet onto their site, website owners can instantly begin to see live happenings. A toolbar equipped with website heatmaps and a real-time traffic dashboard help the owner to optimize his or her site based on real-time visitor behavior.
These live onsite interactions allow website owners to discover the problem areas throughout their website. Armed with an array of heatmaps specific to each page, site owners can see everything from scrolling rates and clicking behavior to focal areas and live click patterns. That data can then be used to optimize the layout of their site, improve traffic and enhance conversion rates.
SeeVolution's redesigned site brings site owners closer to continuous optimization. A usable, intuitive interface is essential when trying to understand complicated site metrics, says Cohen. The new elements that the company has included takes the chore out of reading tedious website analytics and brings the site owner and site visitor relationship that much closer.
The new site design has already seen a significant increase in traffic and is a promising step in the right direction for the growing company. To date, SeeVolution has earned accolades from industry leading blogs and secured three separate rounds of angel financing.
For more information: http://www.seevolution.com