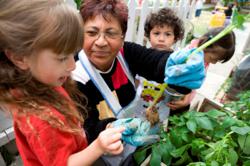 We salute our entrepreneurs' success in creating jobs, building assets, growing green microenterprises and promoting economic and social justice.
Alameda, CA (PRWEB) October 29, 2012
AnewAmerica Community Corporation will host its annual Microbusiness Expo and Celebration at the Albert H. Dewitt Officer's Club in Alameda, CA on Thursday, November 15, 2012 from 6:00-9:00 p.m. The event will be a festive celebration of AnewAmerica, its new American micro-entrepreneurs, loyal sponsors, and dedicated community members. The evening will feature more than 30 graduates of AnewAmerica's Business Incubator program, who will market their goods and services at the Microbusiness Expo.
California leads the country in immigrant entrepreneurship. According to a recent study, immigrants own one-third of California's small businesses. AnewAmerica offers a comprehensive three-year microenterprise development program to immigrants and refugees from throughout the San Francisco Bay Area. As a result of their program, new Americans start small businesses and create jobs. They also find encouragement for integration in social, cultural and political life in the United States and envision new future possibilities in this country.
"We salute our entrepreneurs' success in creating jobs, building assets, growing green microenterprises and promoting economic and social justice," says AnewAmerica CEO, Viola Gonzales.
Delia Suarez, Owner of Delia's Little Angels Daycare, is being honored with AnewAmerica's "Green Business of the Year" Award. This annual award is given to an entrepreneur who has taken exemplary strides to green their business practices and services. Delia owns and operates her early childhood education center in the Bayview neighborhood of San Francisco. She maintains an organic vegetable garden in her center, where children learn about the value of caring for the natural world. Delia states, "The students learn to compost, plant seeds, take care of the seedlings, and harvest the vegetables." Children in Delia's daycare learn about the importance of eating healthy, local food. Delia uses recycled materials in her creatively designed garden, and she has installed solar panels on the center.
Other entrepreneurs to receive awards at the event include:
*Emerging Entrepreneur of the Year Award, South Bay: Carmen Rengifo, Arepas La Caleñita
*Emerging Entrepreneur of the Year Award, East Bay: Tina Fergusson-Riffe, Smoke Berkeley
*Richard Winnie Mentor Award: Julio Leiva, Lotus Cleaning Services
*Volunteer of the Year Award: Dilyara Dzhabbarova
*Volunteer Group of the Year Award: Undergraduate Marketing Association at UC Berkeley
AnewAmerica Community Corporation is a 501(c)(3) regional nonprofit organization, a designated Small Business Administration Women's Business Center, and a Community Development Entity (CDE). Our mission is to promote the long-term economic empowerment of new Americans – new citizens, immigrants, and refugees – and to encourage their full participation in the political, social and cultural growth of America.
For 13 years, AnewAmerica has provided linguistically and culturally-effective microbusiness education and technical support to new American immigrants and refugees in the nine-county San Francisco Bay Region. Our unique three-year model successfully integrates business training, job creation, asset development, and community empowerment strategies for low-income new Americans.