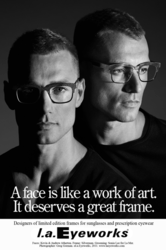 Poway, CA (PRWEB) October 28, 2012
Poway Eyeworks now offers the funky and colorful eyeglasses and sunglasses from l.a.Eyeworks. The new brand has been very popular with patients who are looking for a way to make a statement with their glasses or sunglasses.
The list of stars who have worn l.a.Eyeworks is a who's who of the music and film world. It includes Andy Warhol, David Bowie, RuPaul, Julia Louis Dreyfus, Debbie Harry, Frank Zappa, and Ben Stiller among many others. Their slogan is "A face is like a work of art. It deserves a great frame."
Poway Eyeworks is proud to be carrying the fun and funky frames of l.a.Eyeworks. They bring a new dimension to the wide selection of designer frames available at Poway Eyeworks.
About Poway Eyeworks
Poway Eyeworks is an optometrist office located in Poway, CA on the northeast corner of Pomerado Road and Ted Williams Parkway. They focus on thorough eye exams and the latest styles of eyeglasses and sunglasses with frames from more than 30 designers. Their on-site lab allows them to maintain strict quality control on prescription eyeglasses plus faster turnarounds and greater flexibility in customizing eyewear.