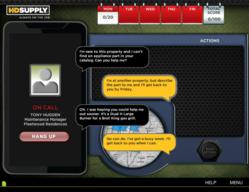 "We are committed to continuous improvement at HD Supply Facilities Maintenance. Allen Interactions has made us a big believer in the power of meaningful and memorable e-learning."
Minneapolis, MN (PRWEB) October 29, 2012
The award-winning e-learning course, Lessons for Sales Success, is an innovative and highly interactive e-learning experience designed to increase the product knowledge and customer service skills of HD Supplies Facilities Maintenance new hire salespeople.
This online course focuses on three areas of interactive practice:
1. A product knowledge drill and practice which helps learners become familiar with HD Supply Facilities Maintenance's product lines.
2. Needs identification scenarios that give new hires the opportunity to visually identify needs within a customer's environment and then practice integrating those needs into a conversation with that customer.
3. "A Week in the Life" sales scenarios acquaint learners with the daily demands of their position while also giving a helpful overview of organizational structure and resources.
"It is a true honor to receive such a prestigious award," stated Rene Sanchez, Senior Manager of Learning, HD Supply Facilities Maintenance. "We are committed to continuous improvement at HD Supply Facilities Maintenance. Allen Interactions has made us a big believer in the power of meaningful and memorable e-learning."
The Brandon Hall Excellence in Learning Awards is presented annually by Brandon Hall Research, one of the leading research firms in training and development. Now in its eighteenth year, the awards program showcases exceptional work in learning & development. Entries are judged by a panel of senior industry experts and the results are based on a course's performance in five key areas: ease of navigation, content presentation, use of media, interactivity and engagement, and support of objectives.
"This year's winners should be very proud of their achievements especially based on the rigorous judging process all submissions underwent," said Mike Cooke, Chief Executive Officer of Brandon Hall Group, Inc. "We are honored to recognize the award winners who exemplify a high standard of performance in their organization and demonstrate clear, measurable business results through these innovative programs."
About Allen Interactions
Allen Interactions is an internationally-acclaimed company focused on improving performance through powerful learning experiences. For nearly 20 years, Allen Interactions has designed and developed custom e-learning and blended learning solutions to address the widely varied performance goals of the world's leading organizations. With a wealth of experience and a track record of success in instructional design, technology, creativity, process, and project management, Allen Interactions consistently achieves positive business impact.
In addition to its service offerings, Allen Interactions recently launched a revolutionary authoring and publishing platform, ZebraZapps, which allows developers and non-programmers to create rich interactive media applications easily and quickly, as well as share, publish, and sell reusable learning objects or entire applications.
To learn more visit: http://www.alleninteractions.com
About Brandon Hall
With more than 10,000 clients globally and 20 years of delivering world class solutions, Brandon Hall Group is the preeminent research and analyst organization focused on developing research driven solutions to drive organizational performance for emerging and large organizations. Brandon Hall Group has an extensive repository of thought leadership, research, data and expertise in Talent Management, Learning & Development, Executive Management, Sales and Marketing.
About HD Supply Facilities Maintenance
HD Supply Facilities Maintenance is a leading supplier of maintenance, repair, and operations (MRO) products to owners and managers of multifamily, hospitality, educational, and commercial properties; healthcare providers; and municipal and government facilities. HD Supply Facilities Maintenance has 37 distribution centers, a fleet of more than 600 delivery vehicles, and 22,000 items in stock and is a business of HD Supply, one of the largest diversified industrial distribution companies in North America.