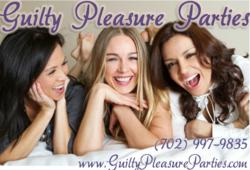 Las Vegas, NV (PRWEB) October 27, 2012
Adult toy home party company Guilty Pleasure Parties (http://guiltypleasureparties.com) announced today that it has provided 217 new jobs across the United States since they opened their doors just a few months ago in June of this year.
"Our steady progression is astounding though not surprising considering all of the time spent ensuring a flawless and lucrative business plan." explained Janet Sclafani, CEO of Guilty Pleasure Parties. "We're ecstatic with how many new consultants sign on every day considering the alleged economical state. Our business model is alluring and beneficial and vastly differs from other sex toy party companies' … We offer 45% Commissions, 20% (company paid) Hostess Rewards and 5-10% Commissions on unlimited members of their team … The motto of our company is that there are no rules; other than being confident, inspiring others and allowing your dreams to come true … We pride ourselves on wholly allowing our consultants to in fact be independent and work on their own, realistic schedules … We all don't always have a great month, and we shouldn't be penalized for it."
Guilty Pleasure Parties is always hiring new consultants all across the United States! The in-home sex toy party industry is steadily becoming more popular then Tupperware parties were in the 50's. Cosmopolitan magazine reports than at least 1 in every 2 women enjoys getting their buzz on, and not everyone admits it. "In the order room at the end of the parties, it's always the women I least expect that make the most exciting and provocative purchases!" stated Jill Fava, the companies' Chief Operating Officer.
"Our consultants' job couldn't be easier – we literally party for a living and it's not hard to find ladies (or gent's) to host one of our fabulous parties … especially since E.L. James' seductively captivating and mysteriously intriguing Fifty Shades of Grey Trilogy became vastly prevalent in our media and in the conversation of countless women worldwide; it seems as though it has given our society, specifically our women, an opportunity to feel unreservedly comfortable with spicing things up in the bedroom – openly!" Continued Sclafani.
Presidential Candidate former Massachusetts Governor Mitt Romney continually pronounces his plan for creating 12 Million American jobs upon his election and Guilty Pleasure Parties plans to assist him in ensuring that goal is not only met but superseded.
For more information on Guilty Pleasure Parties, please contact:
Janet Sclafani
Via Catalina LLC
Guilty Pleasure Parties
9811 W. Charleston Blvd; Suite 2-512
Las Vegas, NV 89117
Office: 702.997.9835
http://guiltypleasureparties.com