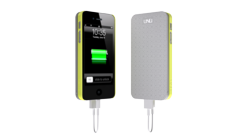 We are offering iPhone users a clear solution for getting the most out of their hardware while treadling lightly on the environment, says uNu CEO Sen Cai.
Union City, CA (PRWEB) October 30, 2012
uNu Electronics Inc., a global provider and distributor of portable power accessories, announced today the launch of the Ecopak iPhone 5 Battery – a new eco-friendly case and power source that doubles the battery life of the latest iPhone. Designed to be the pinnacle of eco-friendly power and sleek style, the Ecopak iPhone 5 battery case features a lithium-polymer battery for more efficient and longer life-span power. To view Ecopak iPhone 5 Battery features, please see: http://bit.ly/WWVq5J_uNu_EcoPaK
"We are offering iPhone users a clear solution for getting the most out of their hardware while treading lightly on the environment," says uNu CEO, Sen Cai. "Surprisingly, relatively few cell phone users recycle their old battery packs. We're addressing this gap with a high performance product that incorporates modern industrial design and a great user experience."
Highlights of the new Ecopak for iPhone 5 include:

2500mAh battery to more than double iPhone 5 battery life on the go
Detachable battery pack for easy portability when additional power is not required
Universal USB output for power sharing with any other mobile device
Choice of 8 colorful snap cases, plus 3 styles of detachable battery, total 24 combinations
Accurate LED power indicator to eliminate unnecessary recharge
uNu Ecopak Recycling Program
As of 2010, the Environmental Protection Agency estimated that the national recycling rate of mobile devices and electronics with rechargeable batteries was about 10 percent. To encourage consumers to recycle their old battery packs and try the new Ecopak for iPhone 5, uNu has created a program for customers to mail in old battery packs and purchase the Ecopak at a significantly reduced price.
Consumers can register on to receive mailing instructions to send in old battery packs. Once the old battery pack is received, program participants will receive a one-time voucher to purchase the Ecopak for iPhone 5 at $19.95, regularly priced at $79.95 USD. For complete program details and product imagery, please visit myunu.com/Ecopak
Free iPhone 5 Case Incentive
Consumers without an old battery case to recycle can "like" uNu's Facebook page at facebook.com/unucases and share the Eco-Recycling page to receive a free Ecopak snap-on case for iPhone 5 (without the battery pack). For more information, please visit myunu.com/Ecopak
About uNu
uNu Electronics Inc. is a global manufacturer and distributor of mobile-electronic accessories. uNu's unwavering belief in creating innovative designs, delivering reliable products, and providing exceptional customer service have made us one of the biggest leaders in mobile power accessories. Based in Union City, CA with international production facilities, uNu caters to clients on a global scale. For any additional information regarding the Ecopak for iPhone 5 or any other uNu products please visit our webpage at http://www.myunu.com, Facebook at facebook.com/unucases or on Twitter at twitter.com/unucase.